This article explains how to connect the metrics created in the Impact Strategy module to the projects.
In this article, you will learn how to assign your impact strategy metrics/indicators to your projects. You can assign selected metrics to one or more projects.
Pre-requisites:
* Define a Theory of Change or IMP map in the Impact Strategy module.
* Define at least one metric/indicator (custom or standard).
* Create your projects on the Impact Maker module.
1. Log in to Impact Cloud. This is the first screen you will see :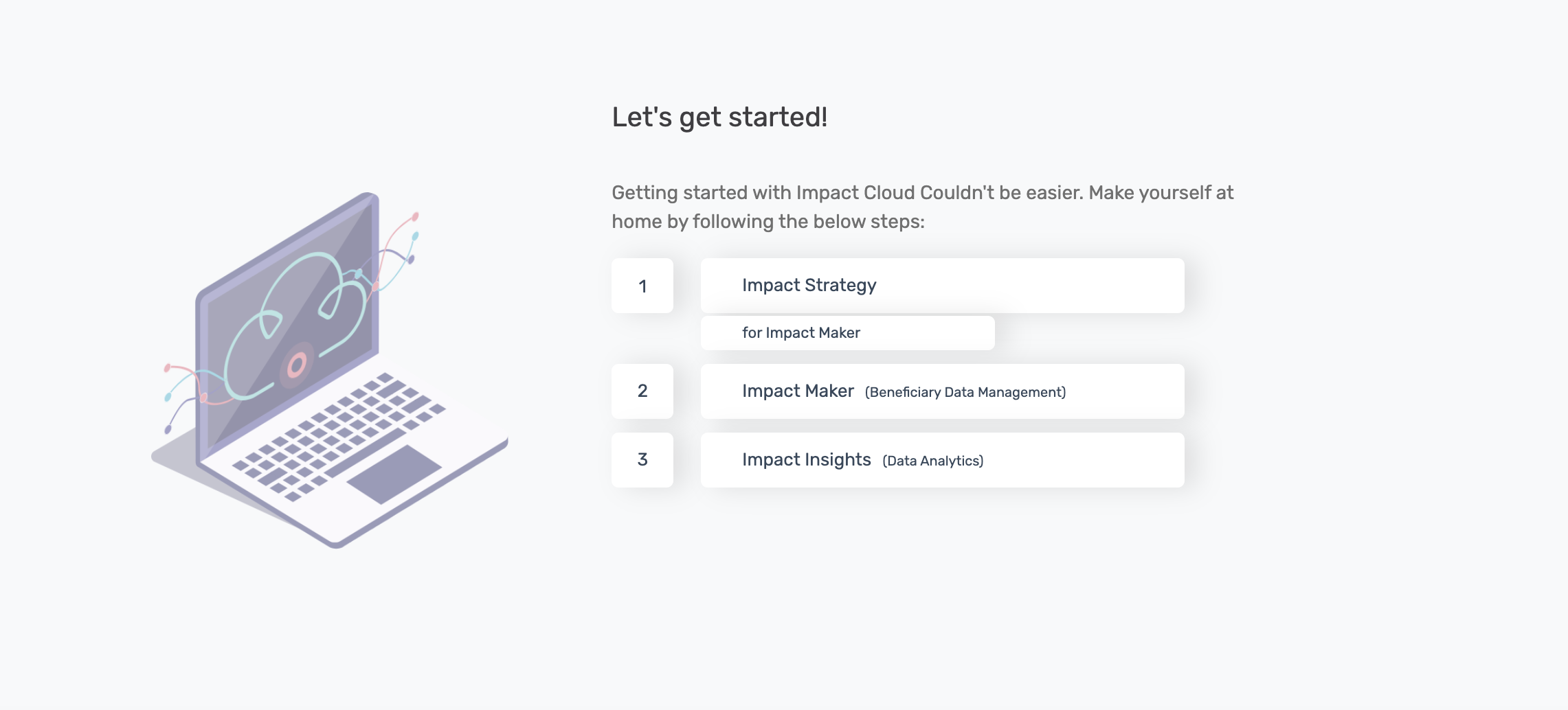 2. Click on Impact Maker. You will see all your projects.
3. Click on the button Assign Metrics (upper right side of the screen - teal color).

4. A new screen will open. This screen shows ribbons with your Impact Strategies names. Clik on any of them and the ribbon will open to display a screen like the one below: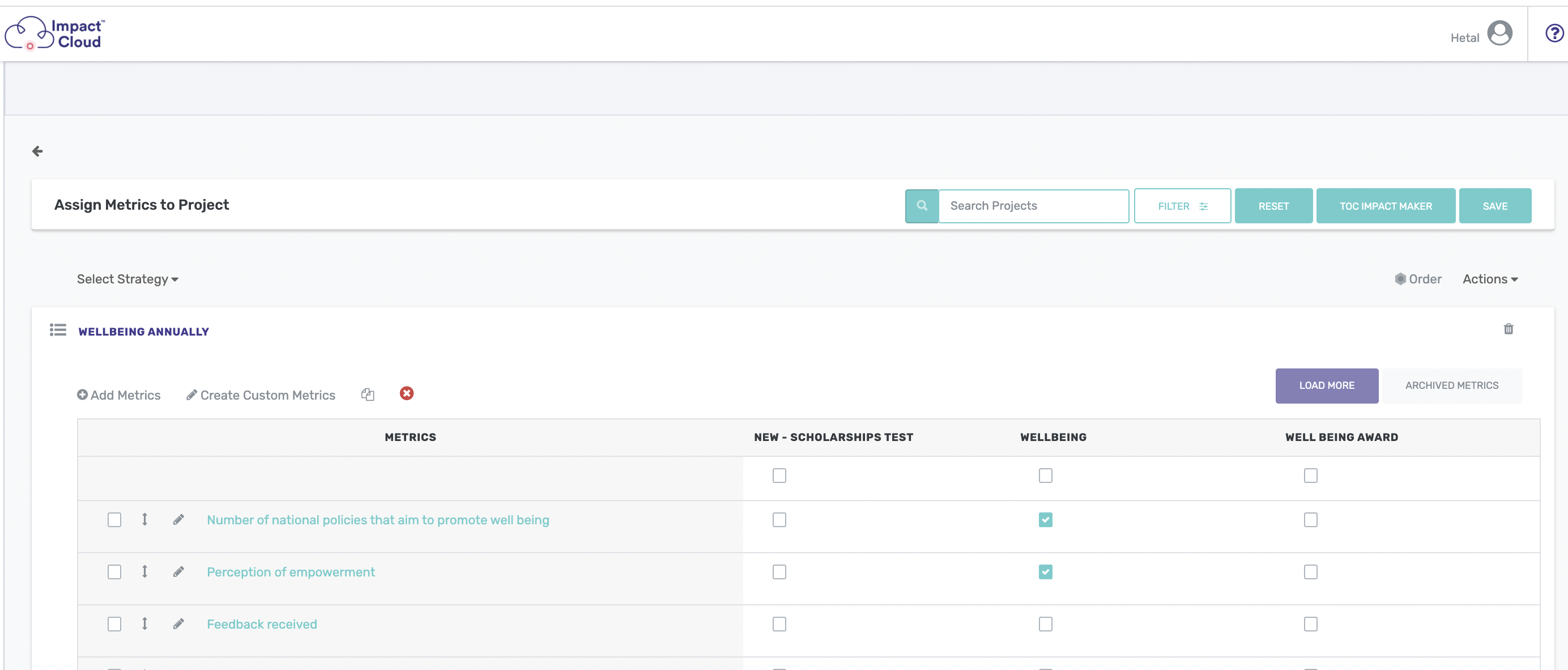 In this screen, the first column shows the list of metrics within the selected Impact Strategy, while the rest of the columns show the names of your projects.
5. Assign the appropriate metrics for one or more projects by checking the boxes below the projects' names.
6. Click on the SAVE button.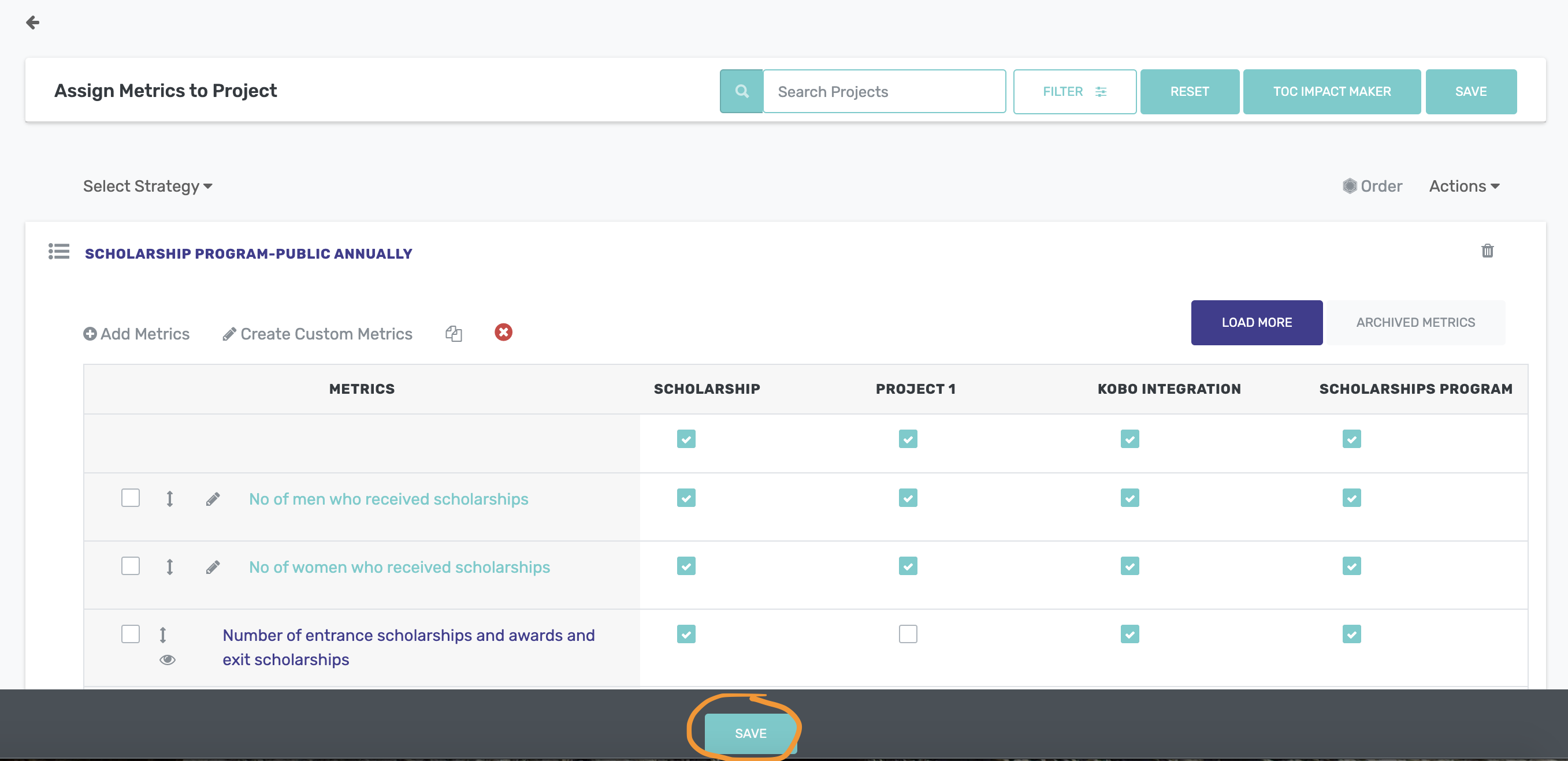 NOTES:
If you are not able to see all your projects on the right columns, click on the button Load More.

The system will load more project names and you will be able to scroll to the right.
If you have too many projects and metrics, you can click on the button Filter to reduce the list. When you click on it, a window like this will pop-up:

As you can see, it already has some default filter options, but you can also customize the filters by clicking on the button with a gear icon on it. When you click on it, the system shows all the standard and custom fields in the project overview. From there, you can select any fields that you want to use as filters by checking the boxes. Don't forget to SAVE.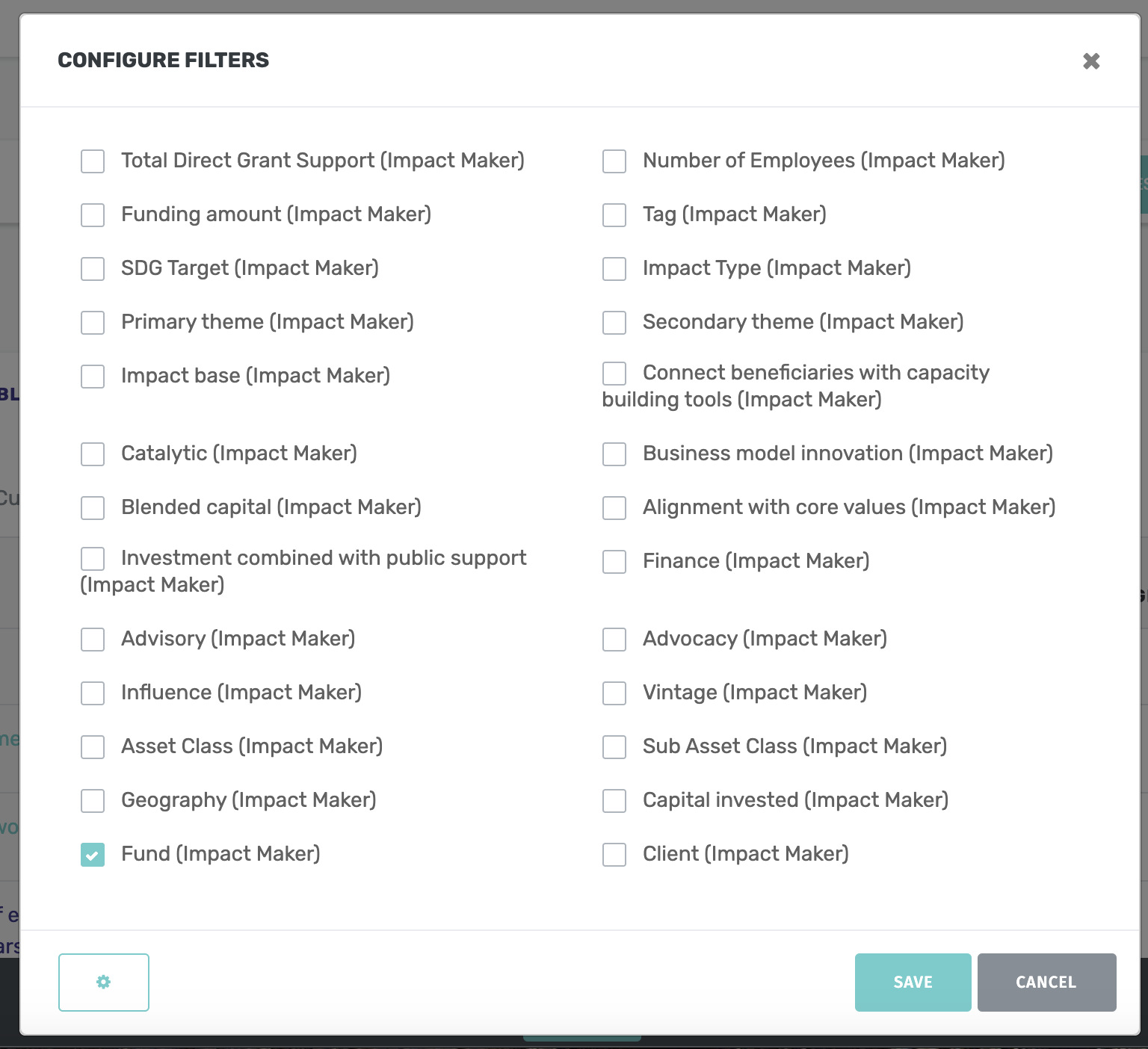 As soon as you click on Save, you will be taken to the previous screen. Now the filters that you just configured will start showing up. At this point, you can select values in one or multiple filters to reduce the projects and metrics displayed in the Assign Metrics screen.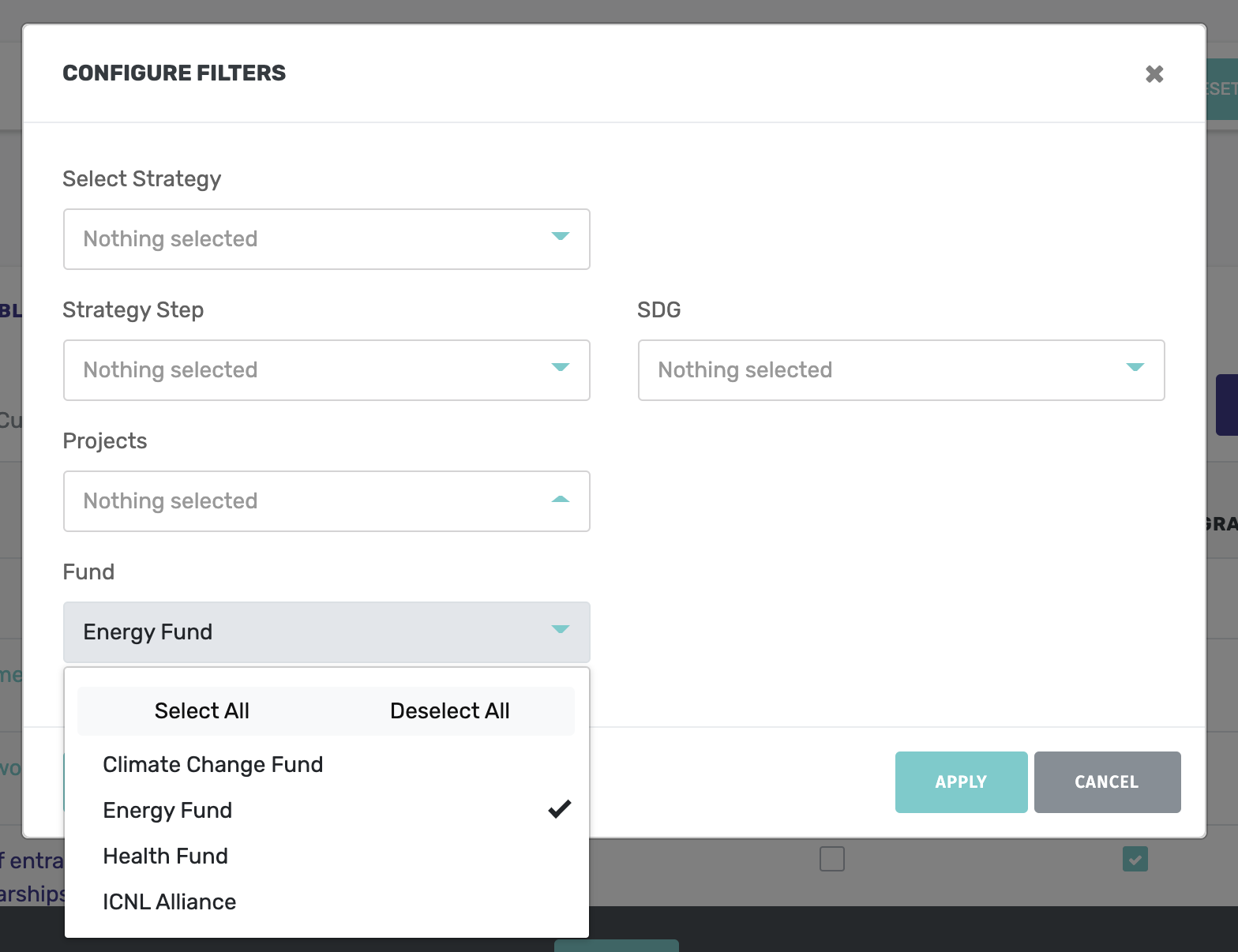 Don't forget to click on the APPLY button.
If you just want to apply the metrics to one project at the moment, use the search box to enter the name of the project.


Once you select the project name from the drop-down, any Impact Strategy ribbon that you open will only have this project visible.

Congratulations! You are ready to collect data on your metrics.