This article provides detailed instructions on how to import multiple projects into Impact Maker.
Pre-requisites:
* A list of projects you would like to bring into Impact Cloud.
1. Log in to Impact Cloud. This is the first screen you will see :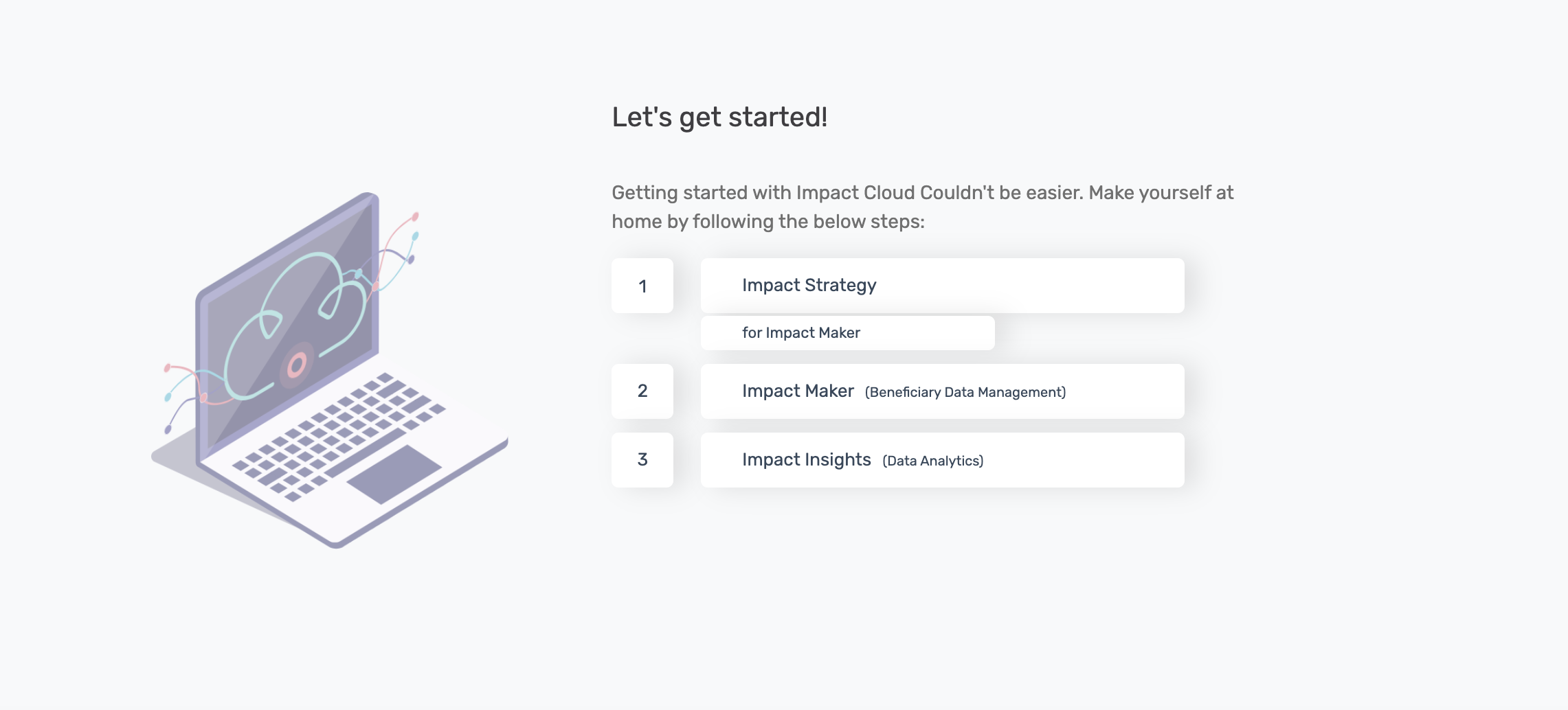 2. Click on Impact Maker. If this is the first time you are importing projects and you have never created a project manually, the screen will be empty. If you have created projects before, you will be able to see them.
3. Click on the button Import Projects (upper right side of the screen)

4. First, download the template by clicking on the ⇓ Download icon (Download our projects import template here).
5. Add all the information possible in the template. You must add at least the Project Name and Location. If you have added custom fields to track, they will also be part of your template. To review how to create custom fields, please see Adding custom fields to the Project. If you intend to create custom fields, please create them first and then download the template to make sure all the information gets imported from the beginning.
NOTE: Whenever there is a field that has a list of options, for example, SDG or Location, the options available will be defined in the corresponding tab. So please, pay attention to the tabs available; review them before entering anything in the first tab named Add your projects here. If the data from any tab does not correspond to what you enter in "Add your projects here" the data will not be properly imported. This also includes your custom fields. For example, if you defined a custom field named "Fund" with the options "alpha" and "beta", there will be a tab in your template named Fund with those options listed. If you instead enter "elpha" by mistake, the projects will be imported, but without the Fund information.

6. Once you have entered all the projects and their information, save the spreadsheet to your computer.
7. From the same import screen where you downloaded the template, check the boxes and click on Next.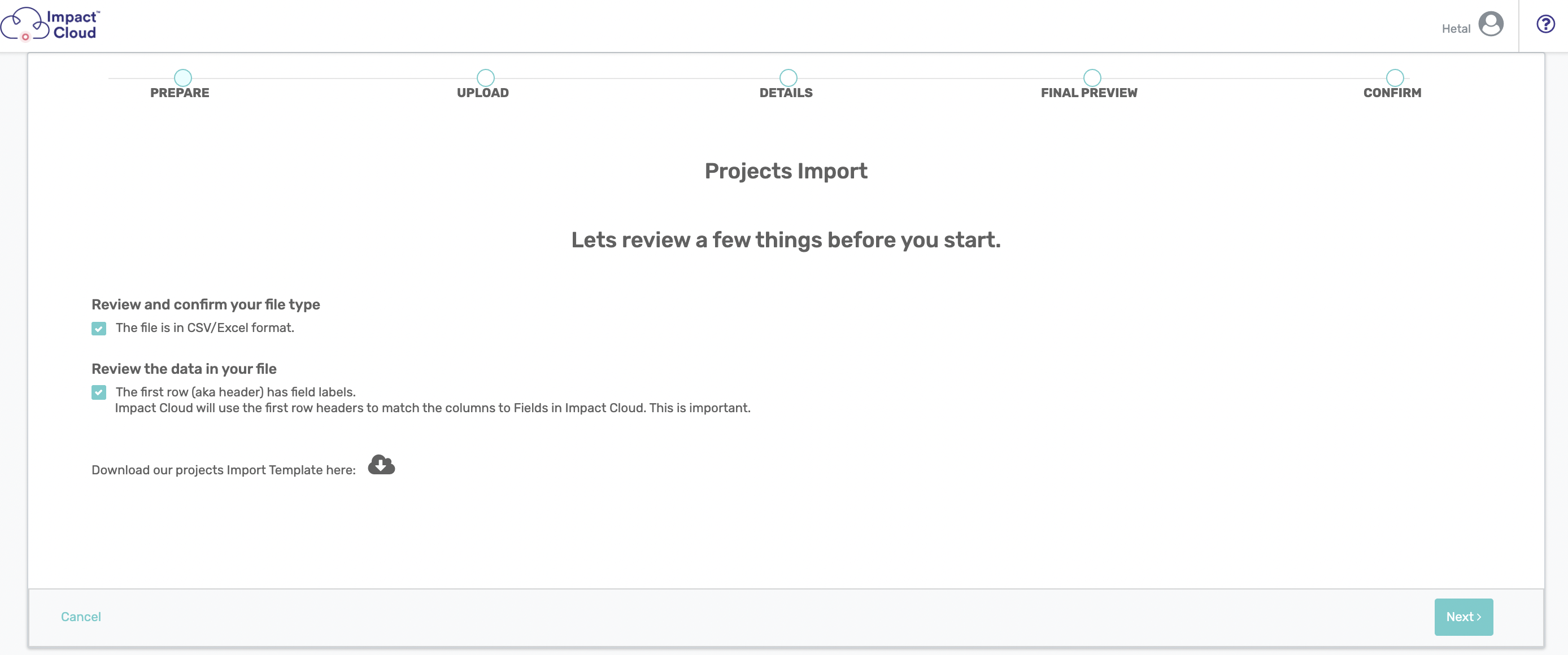 8. Drag and drop or choose your saved file and click Upload.

9. On the next screen, enter a name for the import under Import Name or leave the default one.
10. Leave the field Separate multiple options by blank.
11. Click on Next to Map Your Fields.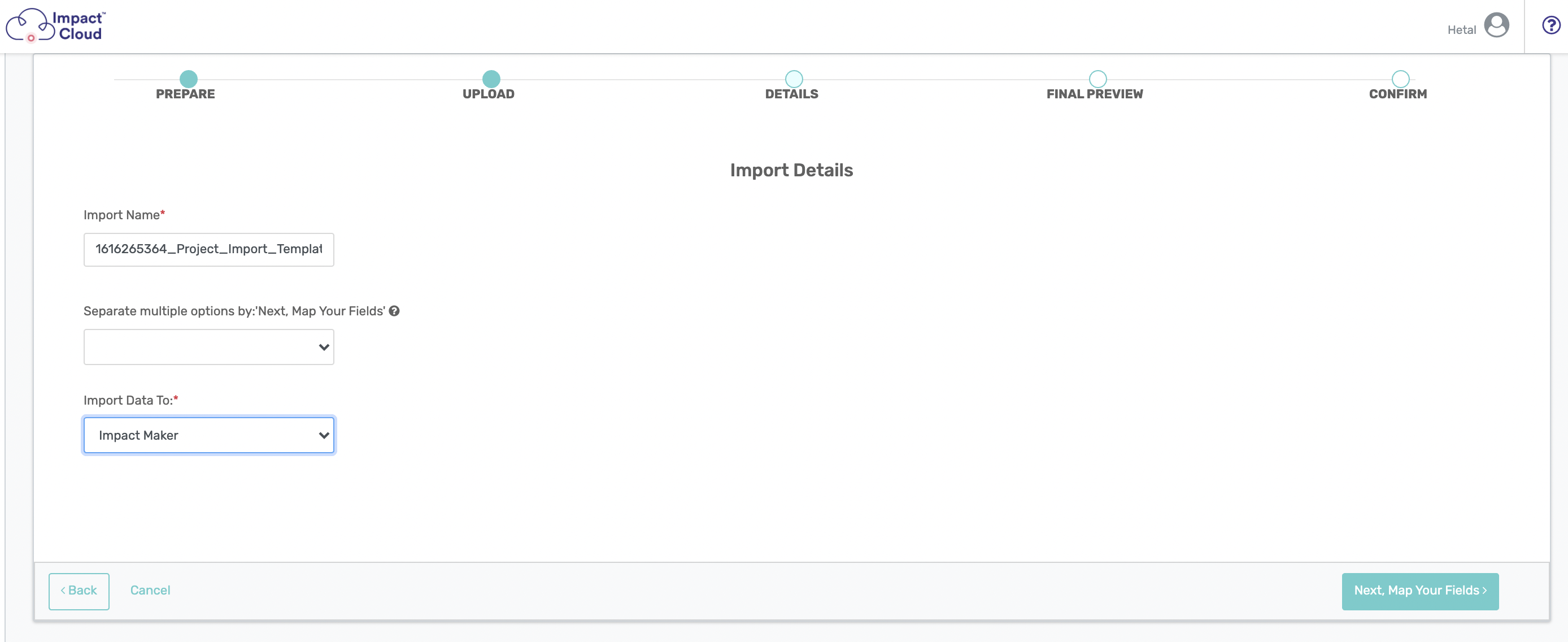 12. Do a final check to see all the column matches are correct.

13. Confirm and authenticate the import. Click on Finish Import.
14. Import will take few minutes as per the size of your file. Once completed, you will see status changes automatically to Completed.

15. If you have errors, you can download the errors and correct them to re-import them.
NOTE: The data without errors will be imported, so should only re-import the data that had errors and has been corrected.
Congratulations! All your projects are successfully imported. You can see them on Impact Maker.