This article gives detailed instructions on how Impact Cloud seamlessly connects with KoboToolBox to help organizations collect offline data using a mobile application or browser in an offline mode
Pre-requisites
You should have an active project on Impact Cloud
You should have created a Table/Form on Impact Cloud
Basic understanding of how digital surveys work
In this document, we are going to follow the below steps. You may skip some steps in between if it is not applicable to you (for example, creating a project or form/table)
Create a Project
After logging in to Impact Cloud, navigate to "Impact Maker" from your Home screen (screenshot shown below) - you may have a project already if that is the case navigate straight to that project
Let's create a project from Impact Maker Overview screen as shown below
You will be navigated to the below screen after the project is created
Creating a Table/Form with few fields in the project
Click on the "Create a New Table To add Data" button after navigating inside a project. Name it and assign it to the project you just created
2. Click on the "View" icon to start creating some fields(as shown in the screenshot below)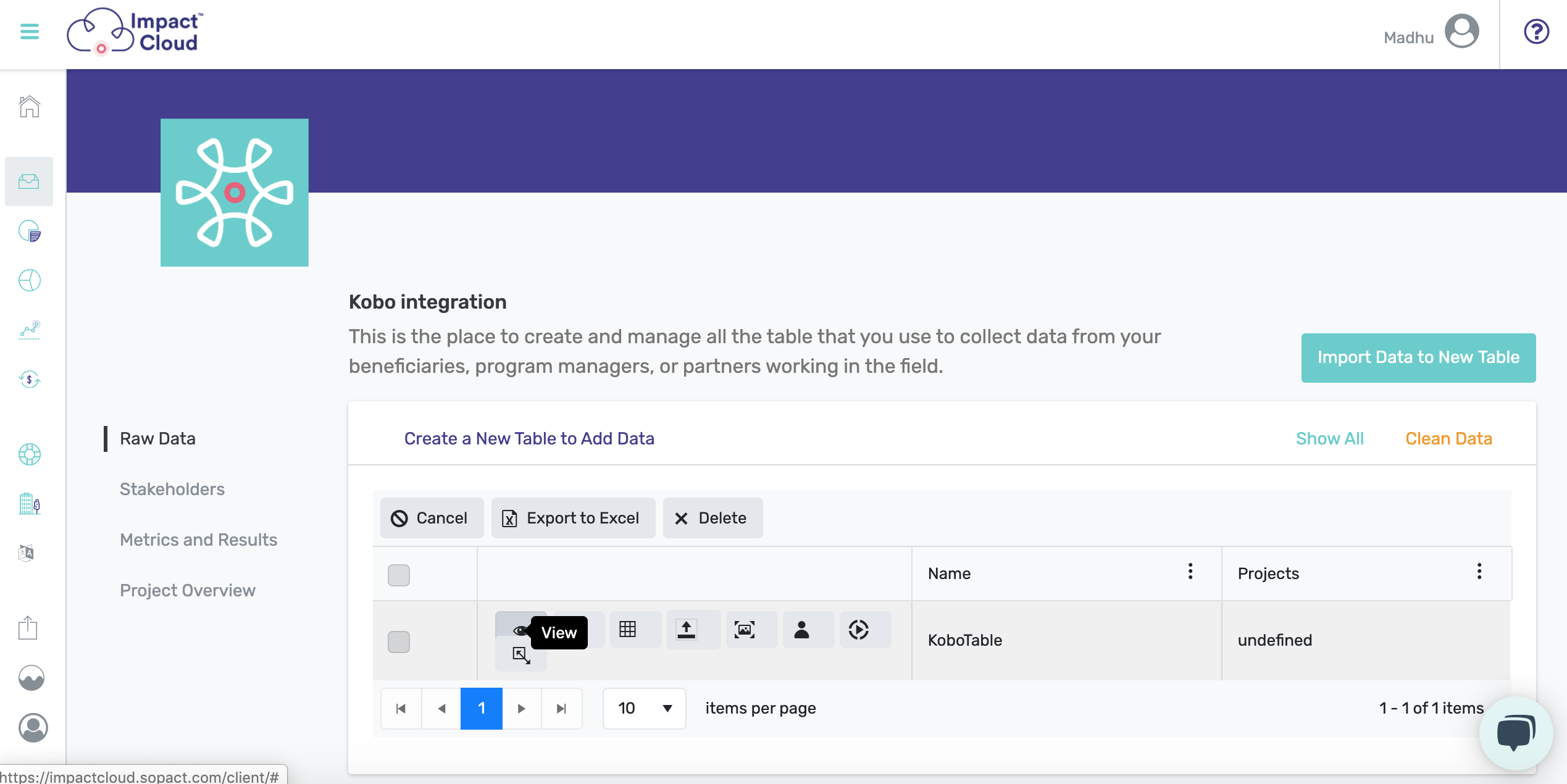 After clicking, It would look something like the below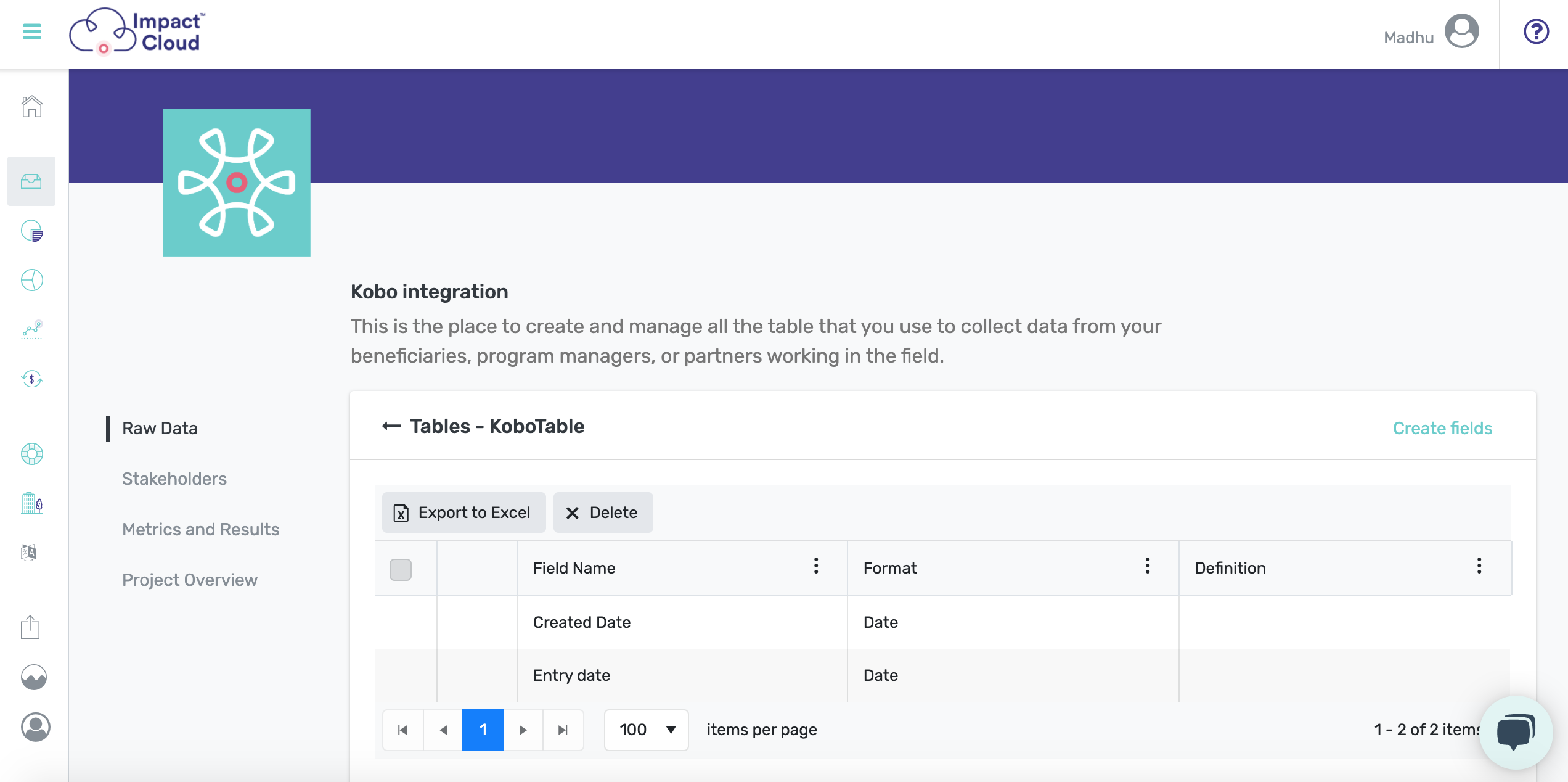 3. Click on the "Create fields" from the top right corner, the below popup opens up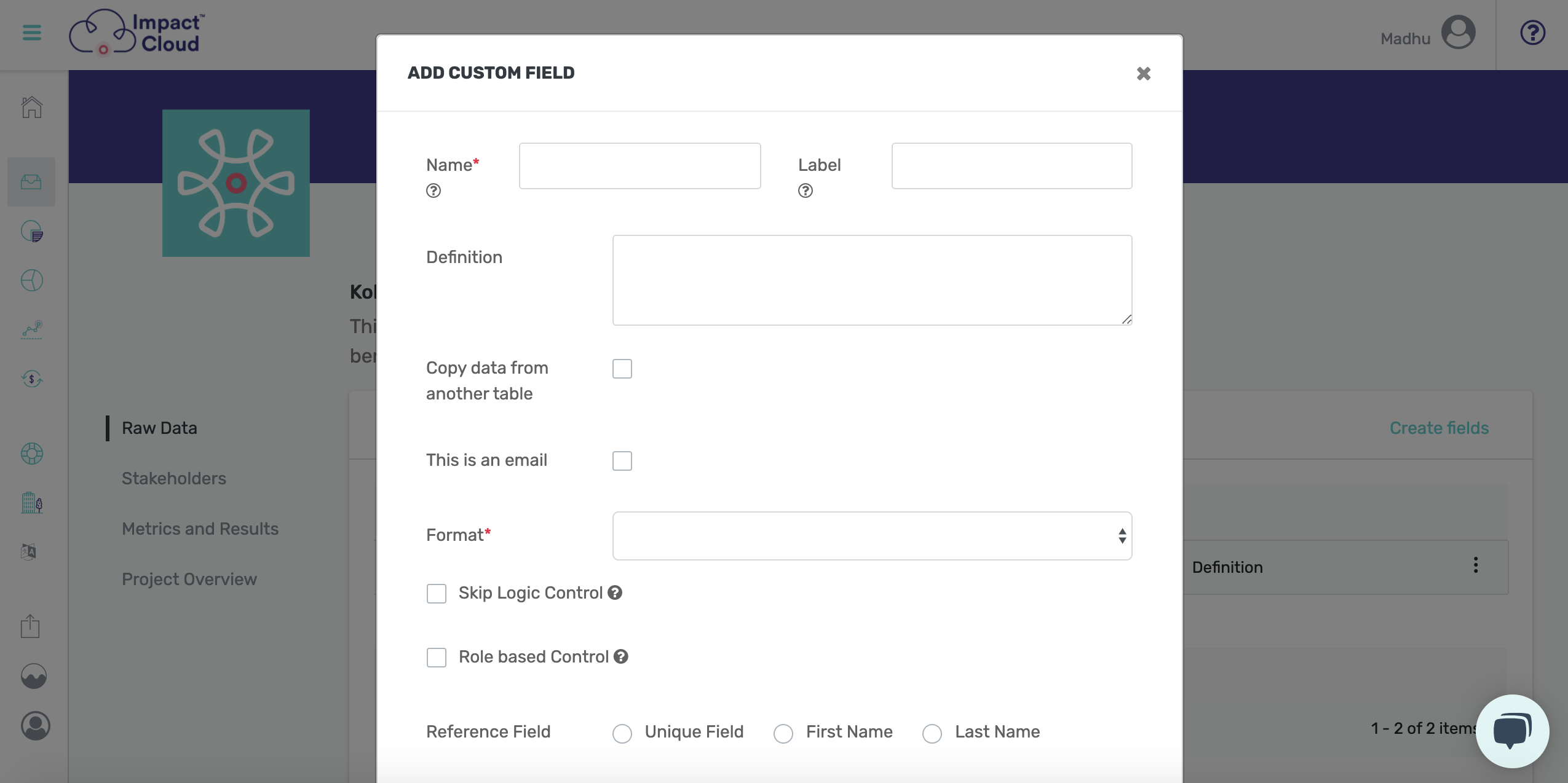 4. For the sake of the tutorial, we'll create two fields. One "Age" and the other one "Gender" with options "Male", "Female".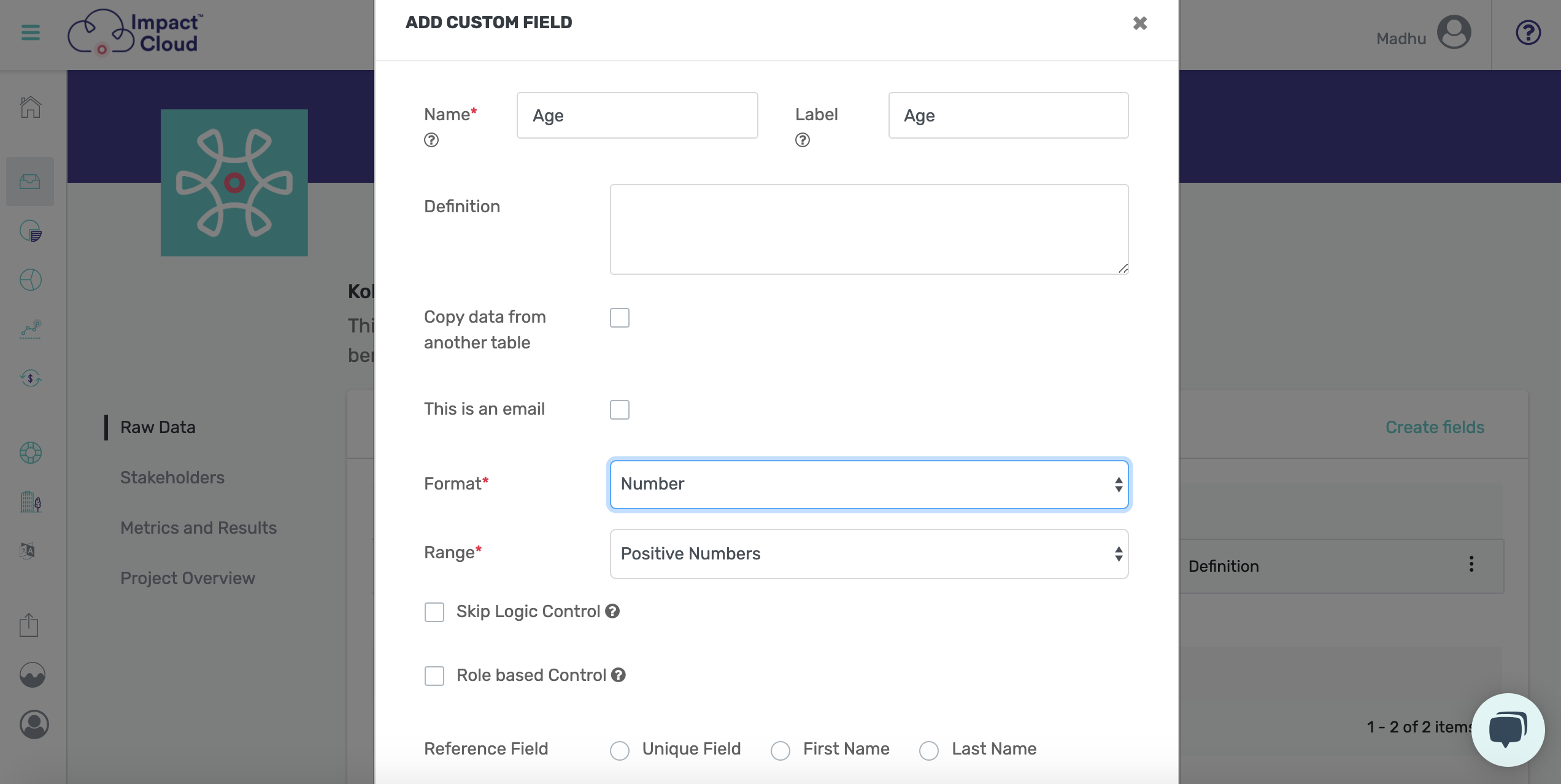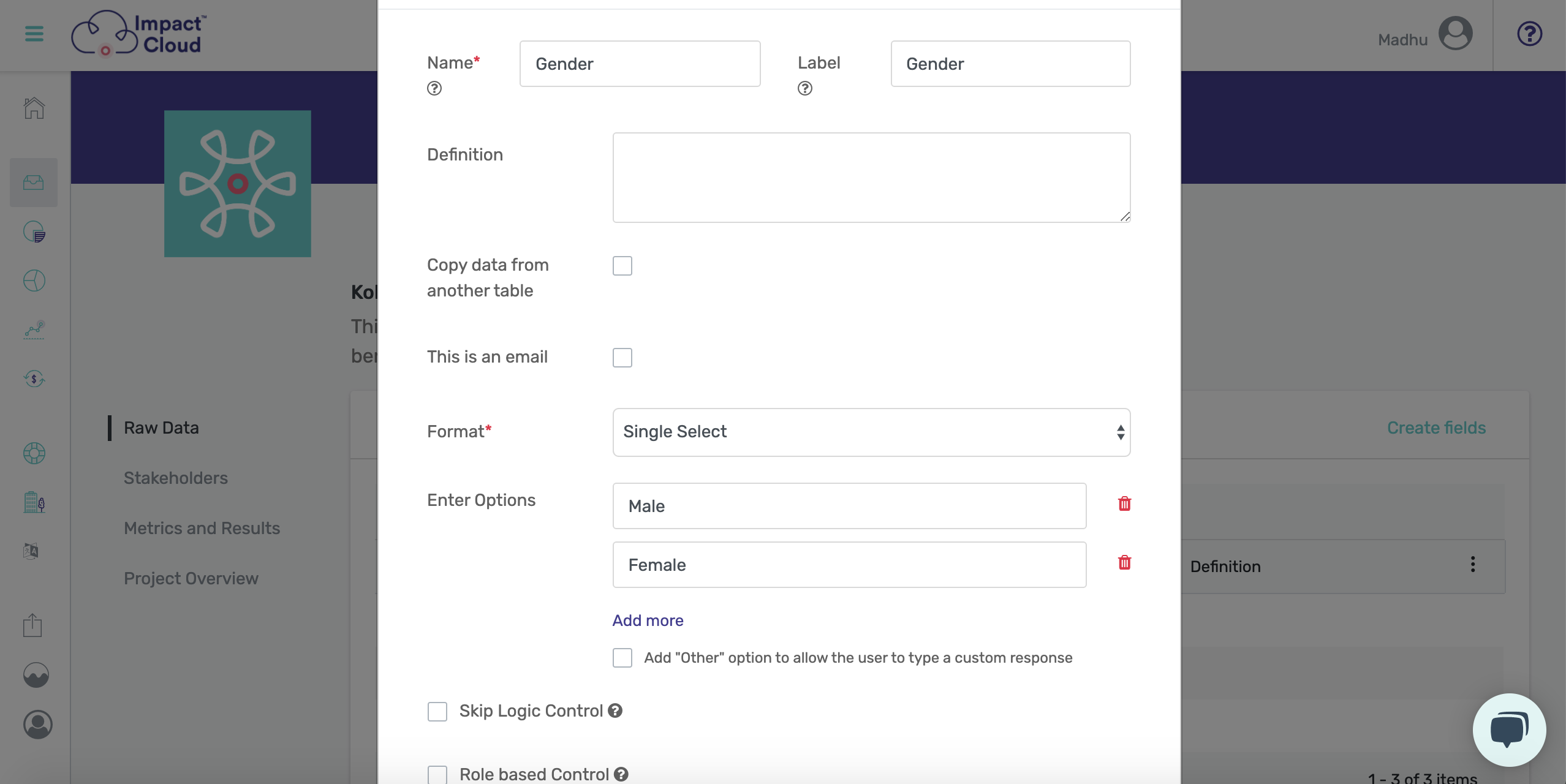 Create KoboToolBox account (if you do not have one already)
1. Navigate to https://kobo.humanitarianresponse.info/accounts/register/#/
Note: Impact Cloud connects only with Kobo Humanitarian accounts. Please use only the above URL to create your account.
2. After creating the account remain logged in on your KoboToolBox account.
Get the API token from KoboToolBox
1. Click on the following link: https://kobo.humanitarianresponse.info/token/?format=json
2. You will see the below in your browser,

Connect with KoboToolBox using the API token
Note: Only one KoboToolBox account can be connected per organization. This means only one token can be used to connect Impact Cloud with your Kobo account
1. Copy the token in between the double quotes from the above URL and navigate to the mobile integration page by clicking on the mobile phone icon in your project table/form(as shown below)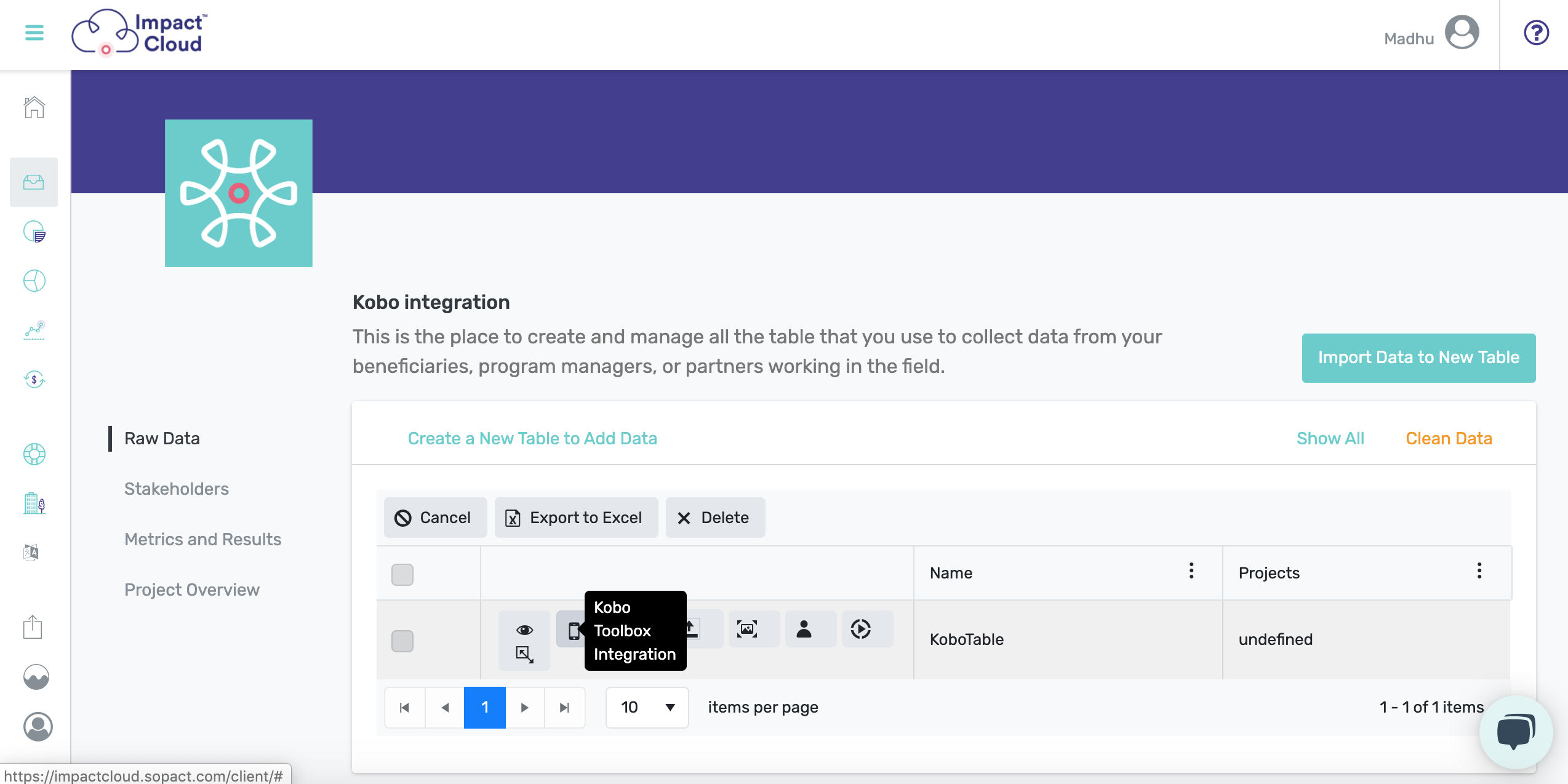 2. You will see the screen below,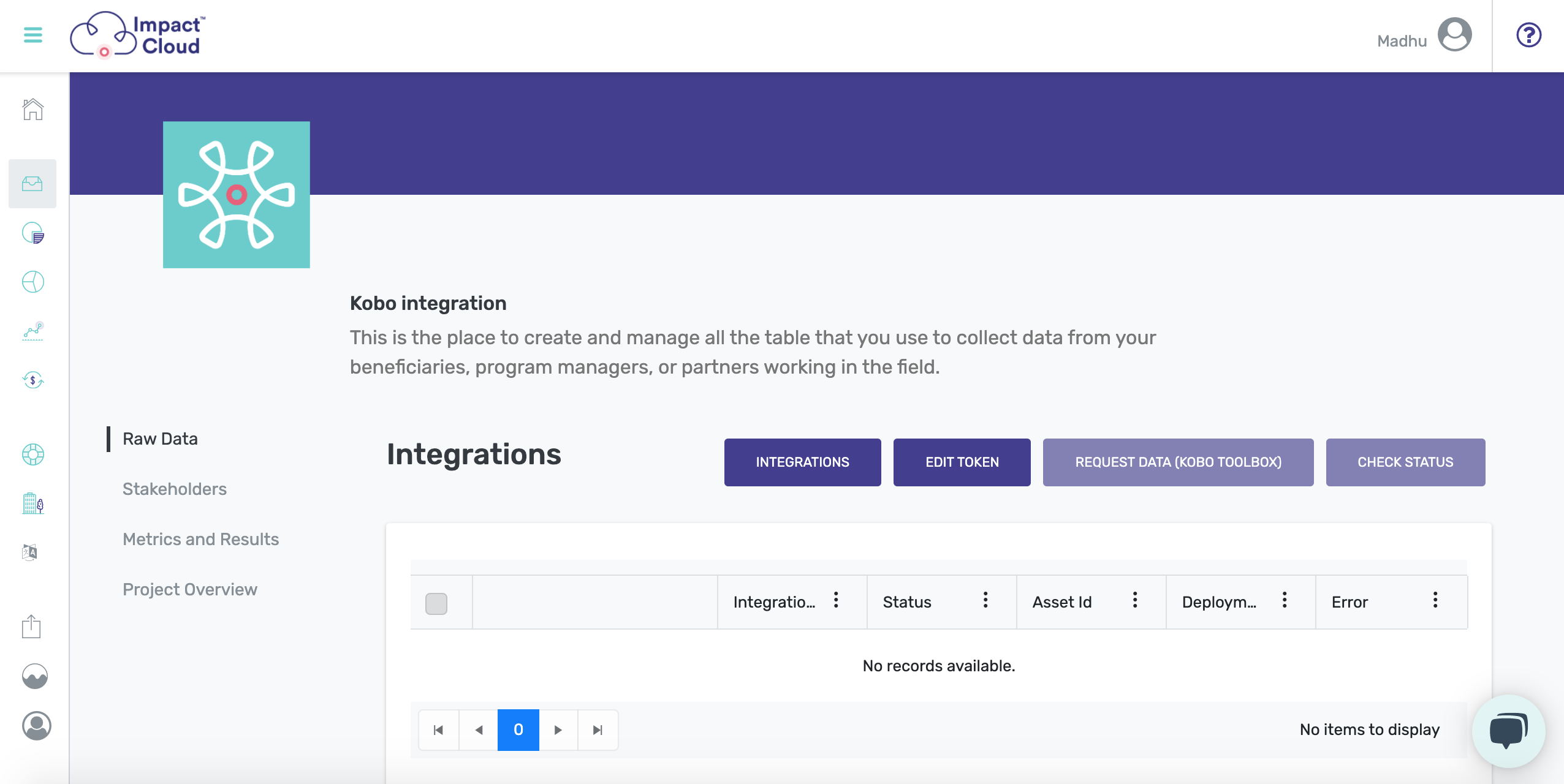 3. Click on "EDIT TOKEN" and paste the token in the text-box (as shown below) and click on Save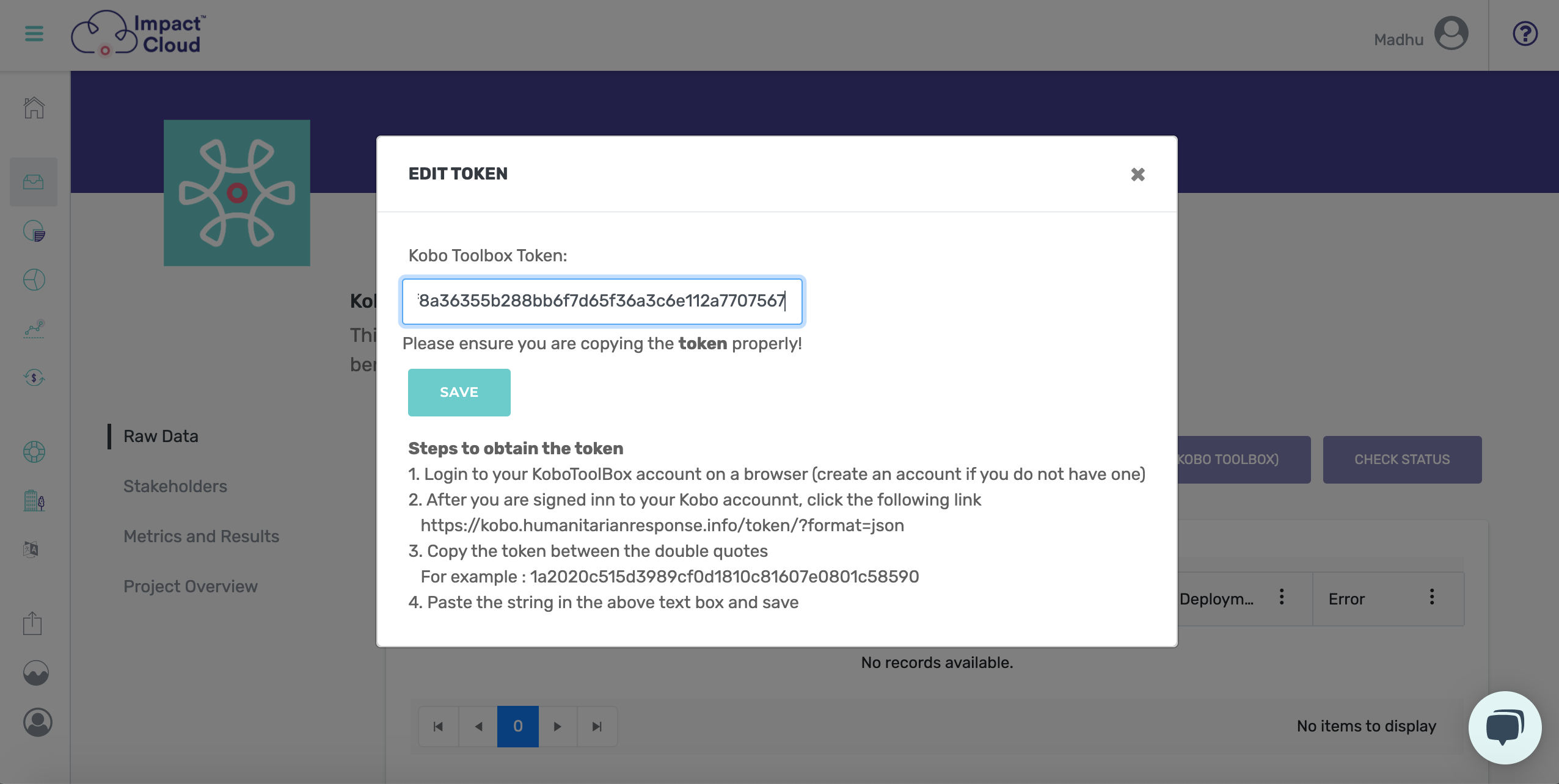 Deploy your survey on KoboToolBox from Impact Cloud
1. Click on "Integrations" button from the top menu and select "Kobo toolbox" from the drop-down and click on Deploy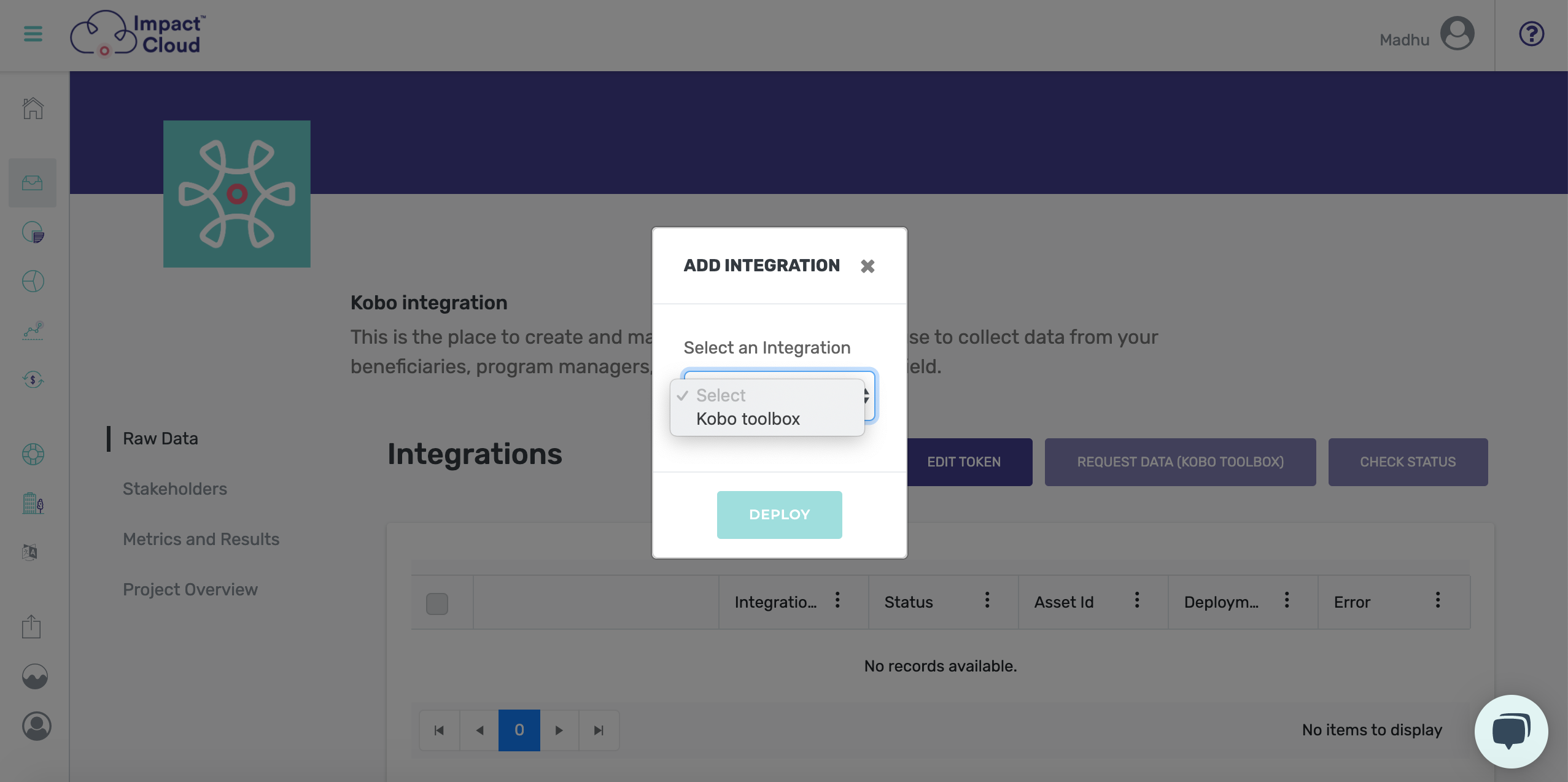 2. Refresh the page after a few seconds and you should be able to see the below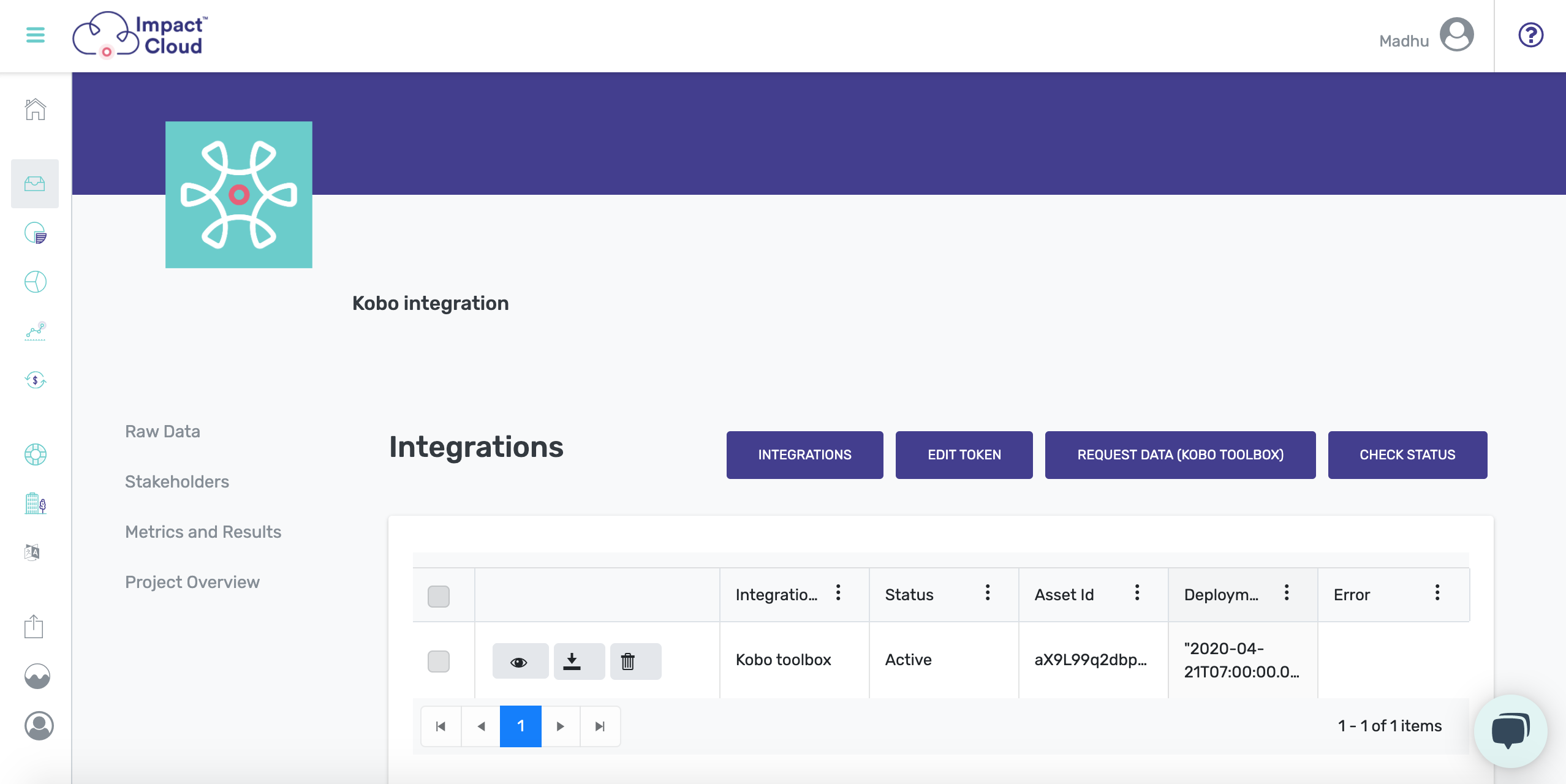 Collect data using a mobile application provided by Kobo for Android users or use a browser
1. Log into your Kobo account, you should be able to see the survey that we just deployed
In our case, it shows the "KoboTable" that we just deployed

2. Click on the project from the left menu (you will be able to see the screen below) - from the "Collect data" section click on "COPY" to copy the offline survey link using which you can collect the data on the browser even when there is no network connectivity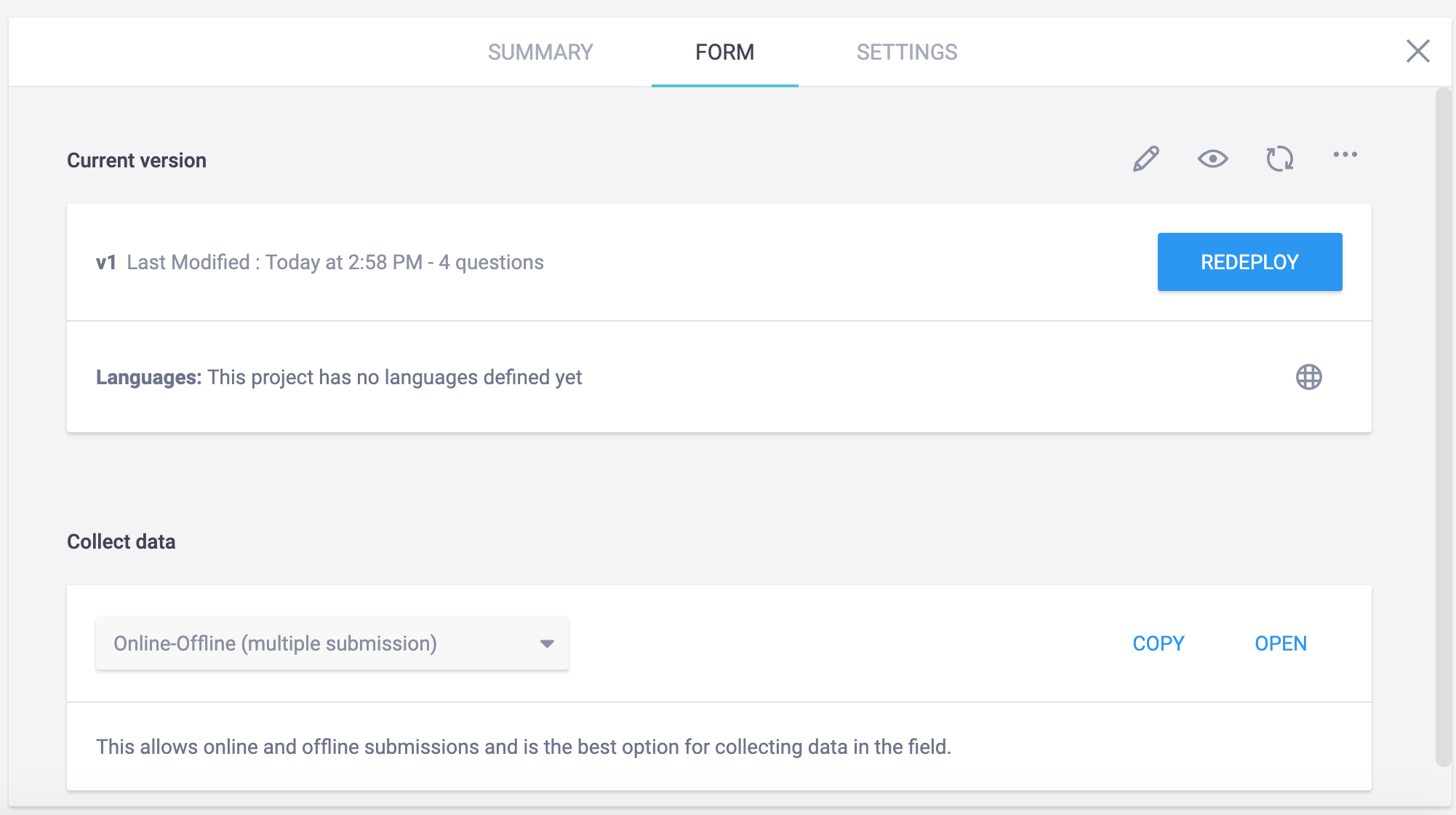 3. Our example survey looks like below (It shows the fields that we just created) - enter some data and submit the form. The data gets store in your kobo ToolBox account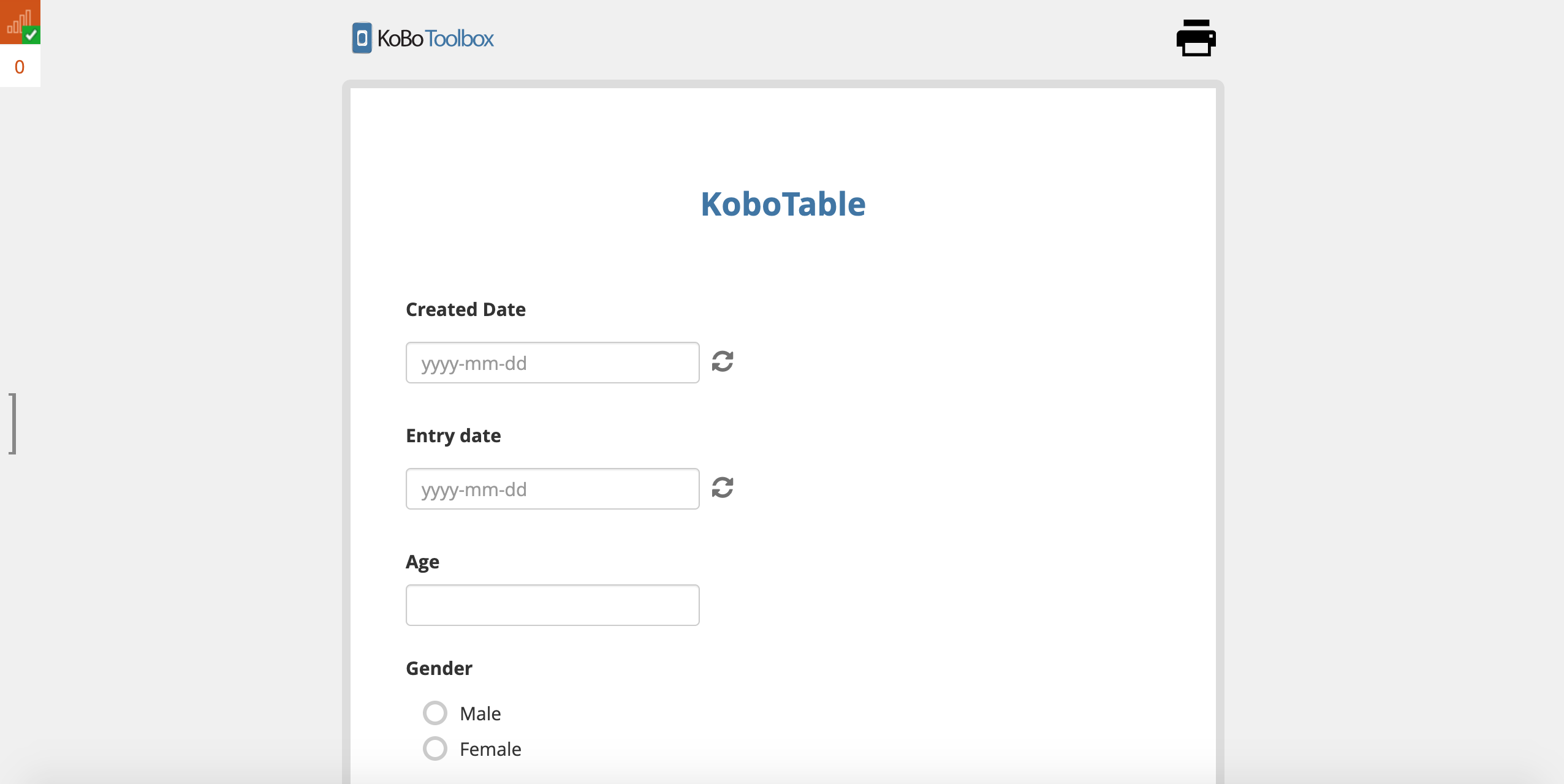 Seamlessly fetch the collected data into Impact Cloud
1. To fetch the data from your Kobo account go to the integrations page again and click on "Request Data"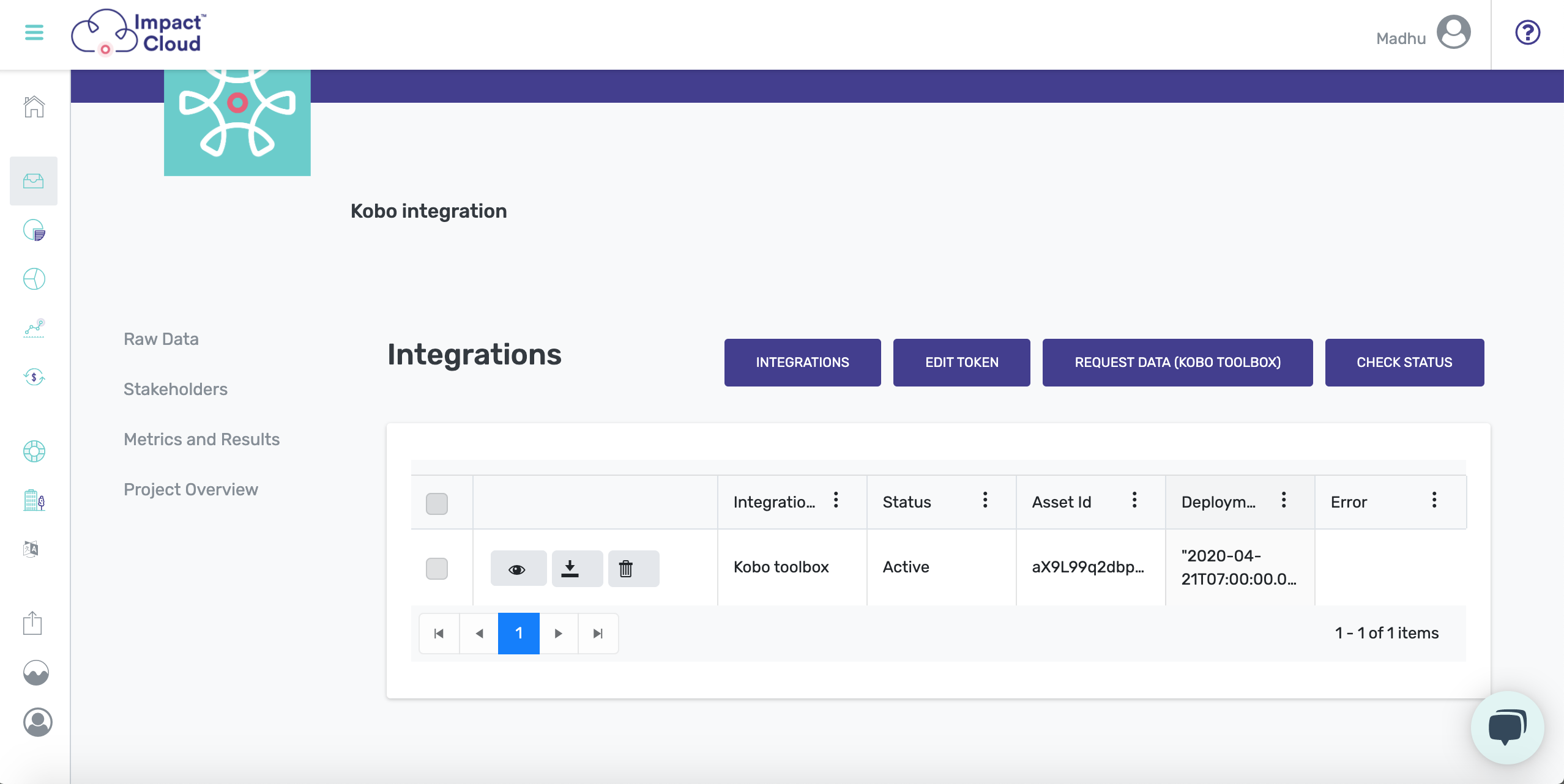 2. Now, Click on "Raw Data" tab from the menu on the left side you will go back to the raw data screen - click on "View Data" as shown in the screenshot below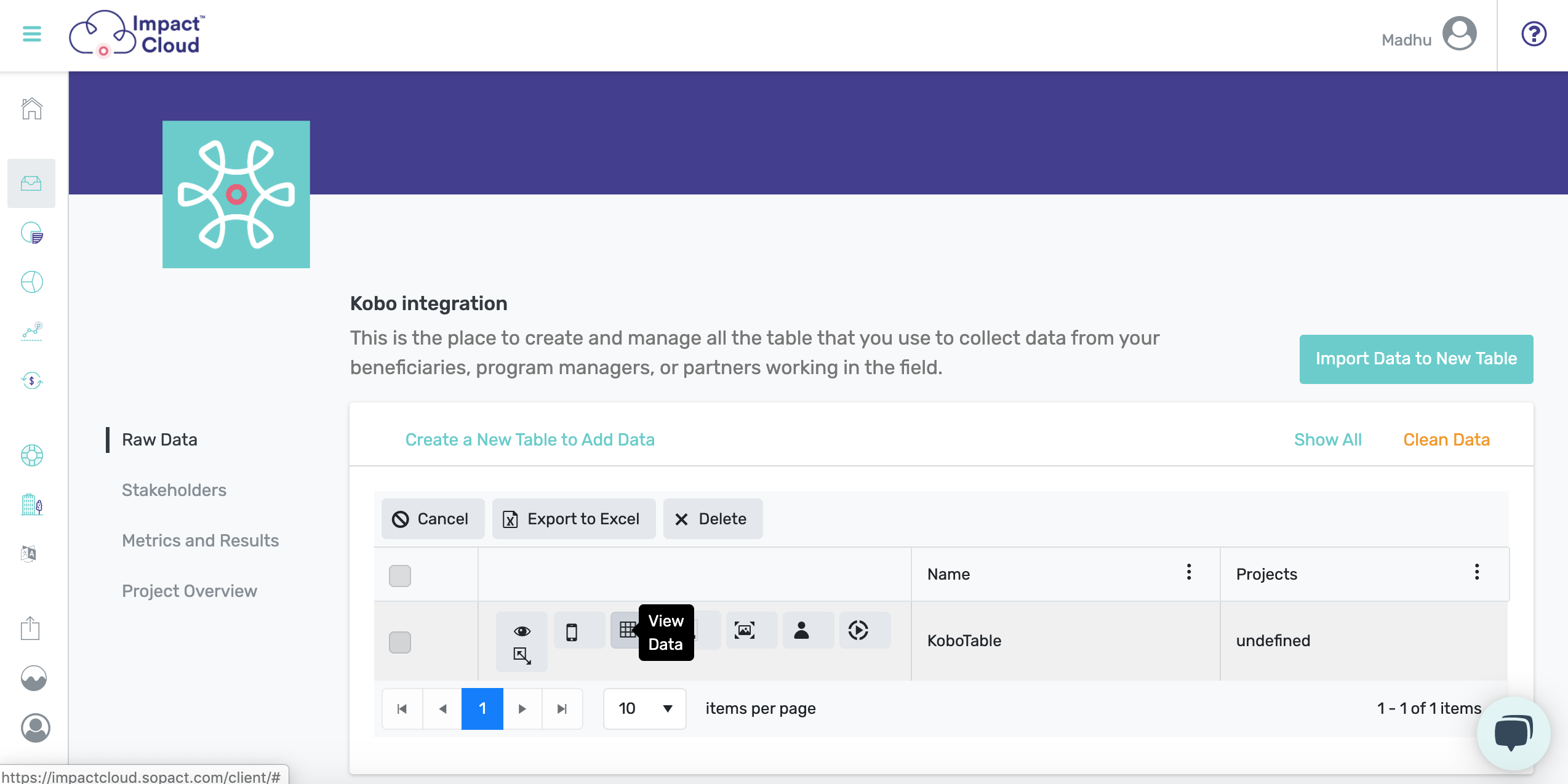 3. You should now be able to see the data collected on Kobo in Impact Cloud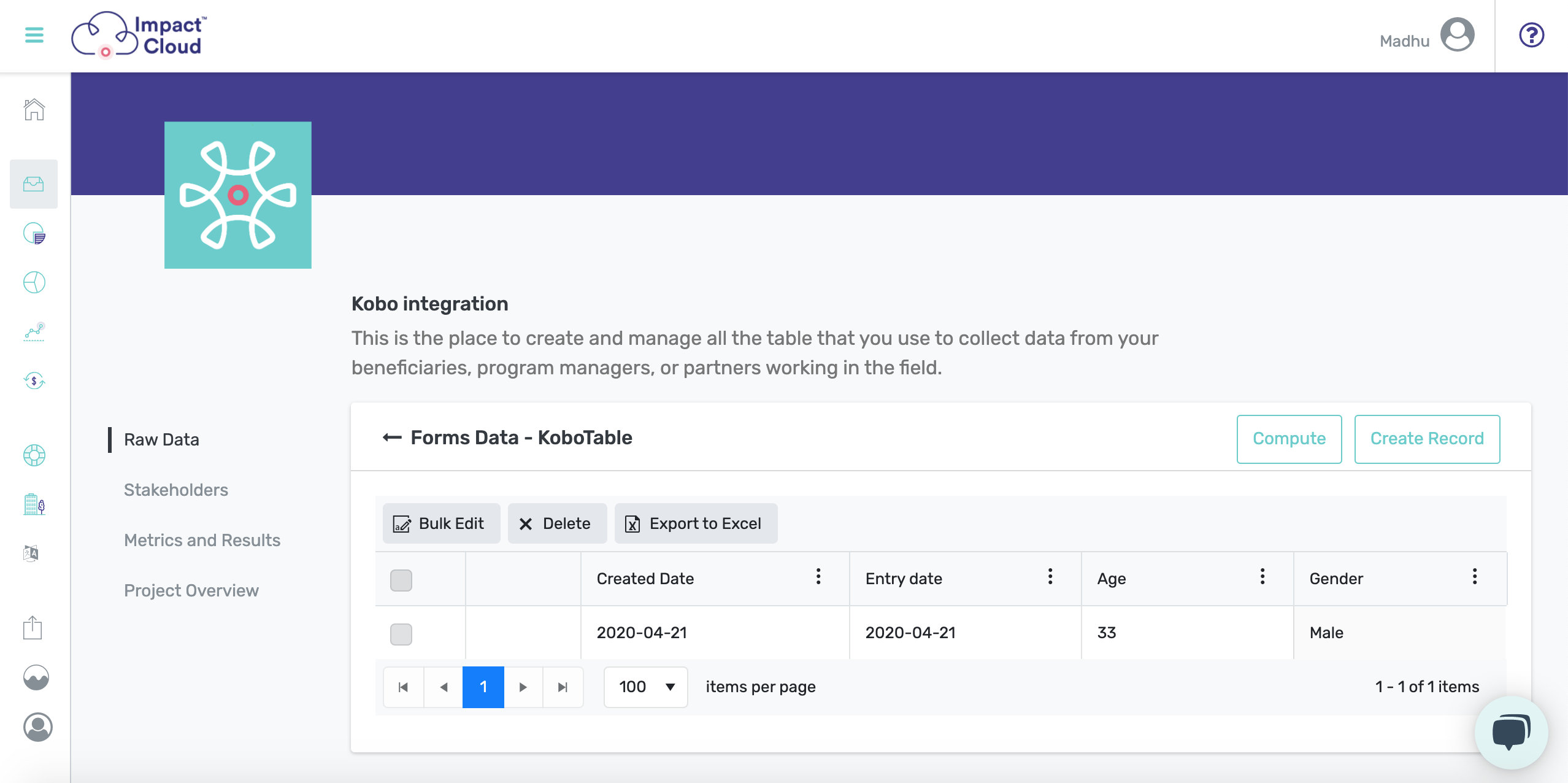 You will not be able to seamlessly bring in data from KoboToolBox to Impact Cloud going forward.