This document will let you know about all the latest and greatest features on Impact Cloud and updates on bug fixes.
Release date: 21st May 2020
Visualization to see Project/Investment contribution toward a metric overtime
We can now see how projects or investments have contributed toward a particular metric over time. For example, if you are keeping track of the number of jobs on multiple projects or investments, you will now be able to see how many jobs each of them has created overtime on a stacked chart.
Just navigate to Outcome Insights and Choose "Metric overtime grouped by Investments/Projects"; you should be able to see stacked chart provided you have data for multiple investments or projects for a given metric.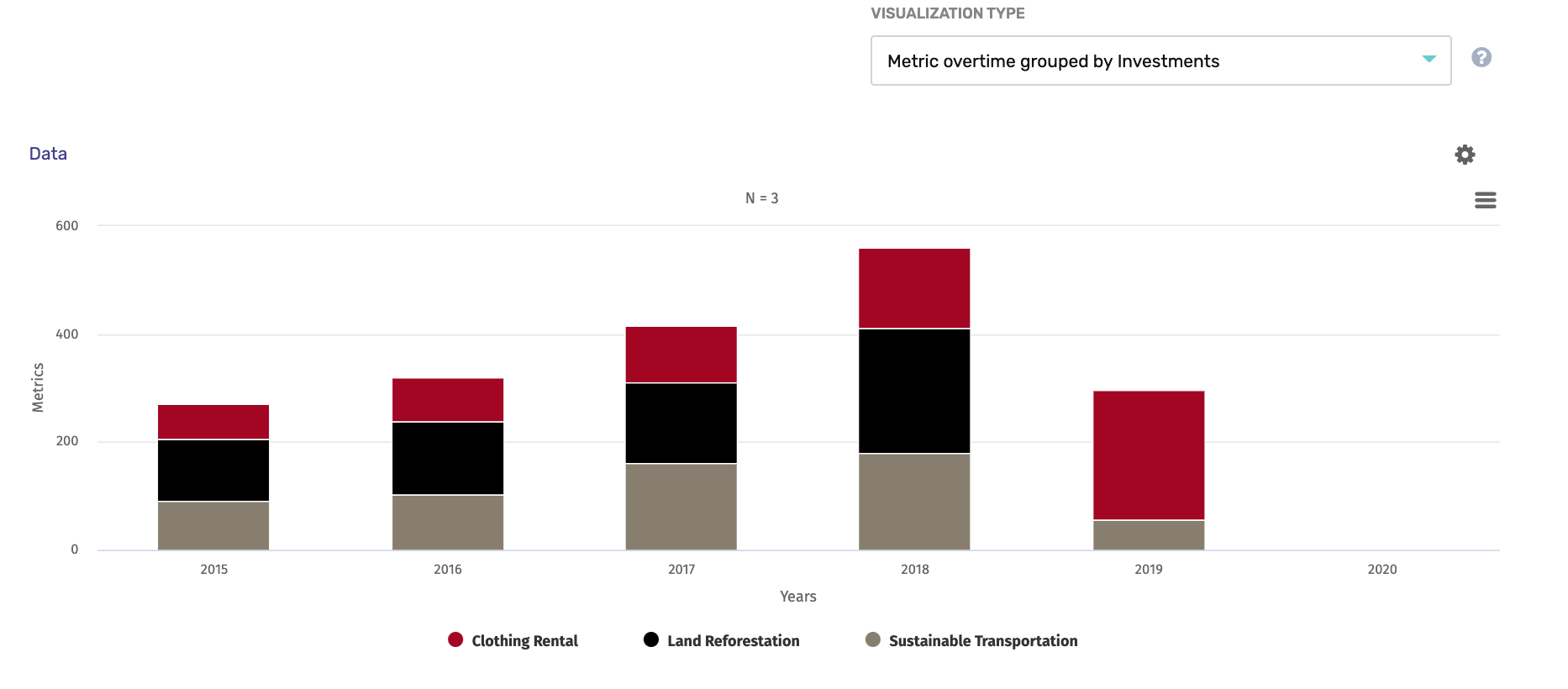 Ability to re-order options within a select-one, select-multiple type of metrics and fields
The much-awaited options re-ordering functionality is live. You will now be able to re-order the options in Single-select, Multi-select, Multi-value metrics, and Form fields. The order will be maintained in the visualizations and the survey.
For example, Navigate to a TOC containing Single-select, Multi-select, or a Multi-value metric and you will be able to re-order the options using the re-order icon to the right. The same functionality is available for Impact Maker survey questions if type Single select, Multi-select, and Multi-value.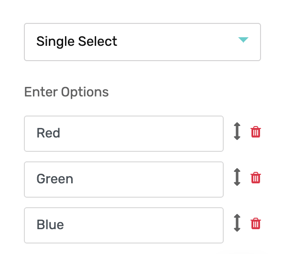 Formula and Scale fields support for Radar chart for progress tracking
Radar Charts that demonstrate the progress of a program based on different factors now support Formula and Scale Fields in addition to the score fields. This gives our users the ability to create formula fields and plot them on the Radar Chart, which enhances the flexibility of our platform to demonstrate Impact without much rigidity.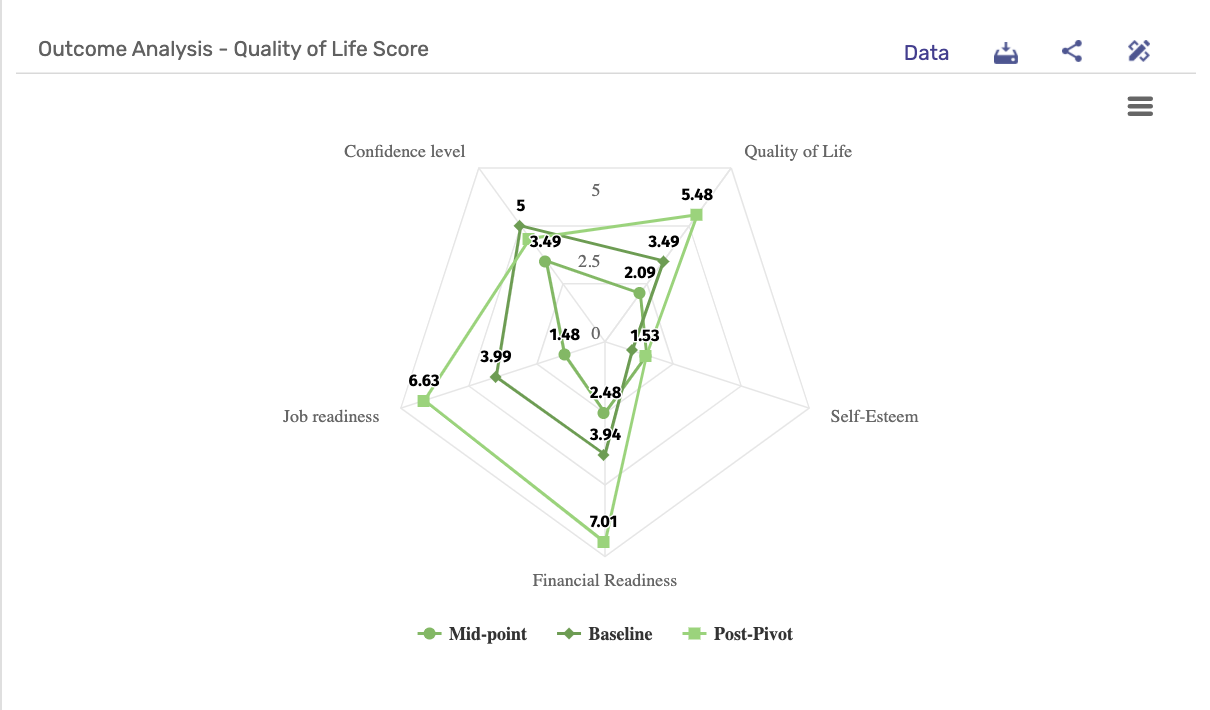 Support for different currencies in metric survey
Impact Cloud now supports currency metrics to be configured in different currencies. Originally the support was restricted to USD.
Navigate to a TOC and select the metric for which you would want to configure a different currency type. For example, on the selection of Norwegian currency shows the appropriate symbol in the survey

Ability to convert a field in Impact Maker table of type "Single Line Text" to "Single select"
Efficiency just got a boost with our latest functionality to convert a Single Line Text to Single select for Impact Maker survey questions. When you convert a Single Line Text to Single Select, our system now automatically recognizes the options within the field and displays appropriate options on the survey screen.
Just navigate to an Impact Maker Project table and select a Single Line Text field and change the type to Single Select. For example, on changing the below field to Single Select, the options are automatically recognized (As shown below)
After changing the type to Single Select,
Note: This operation can be performed only on a field with a maximum of 20 options.
Location field for Impact Maker Projects
Impact Maker Projects can now be set with a location. This gives us the ability to analyze our portfolio on Maps.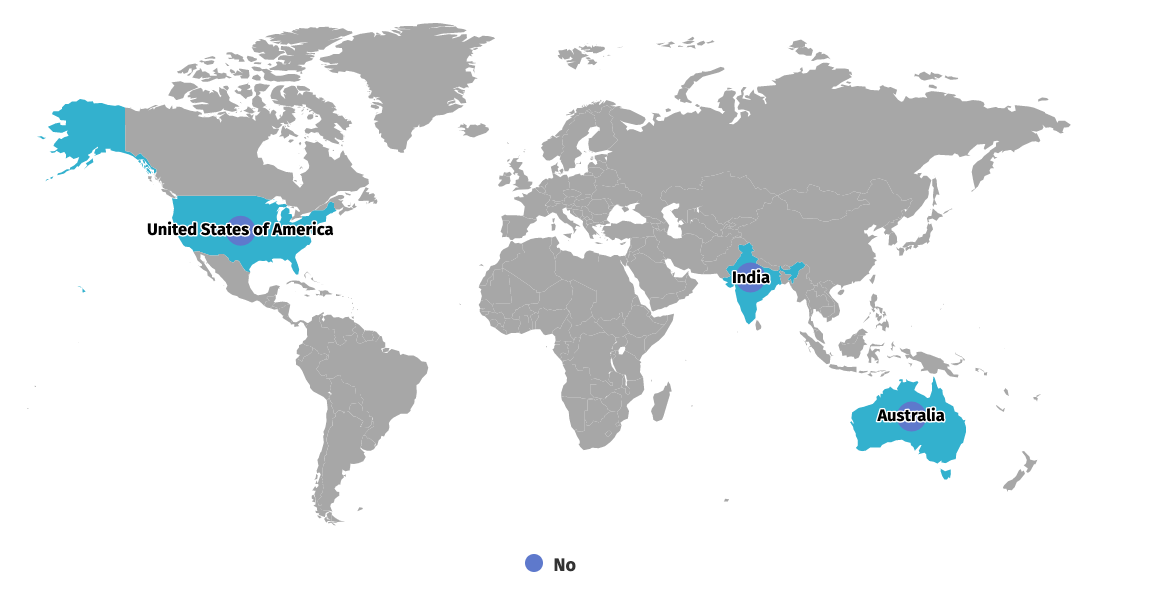 Searching for a Project in Impact Maker metrics assignment screen
We now have the ability to search for and assign metrics on projects without having the need to navigate a lot to do so.
Just navigate to the Impact Maker metrics assignment screen and you will be able to see a search box that gives you the ability to search for projects.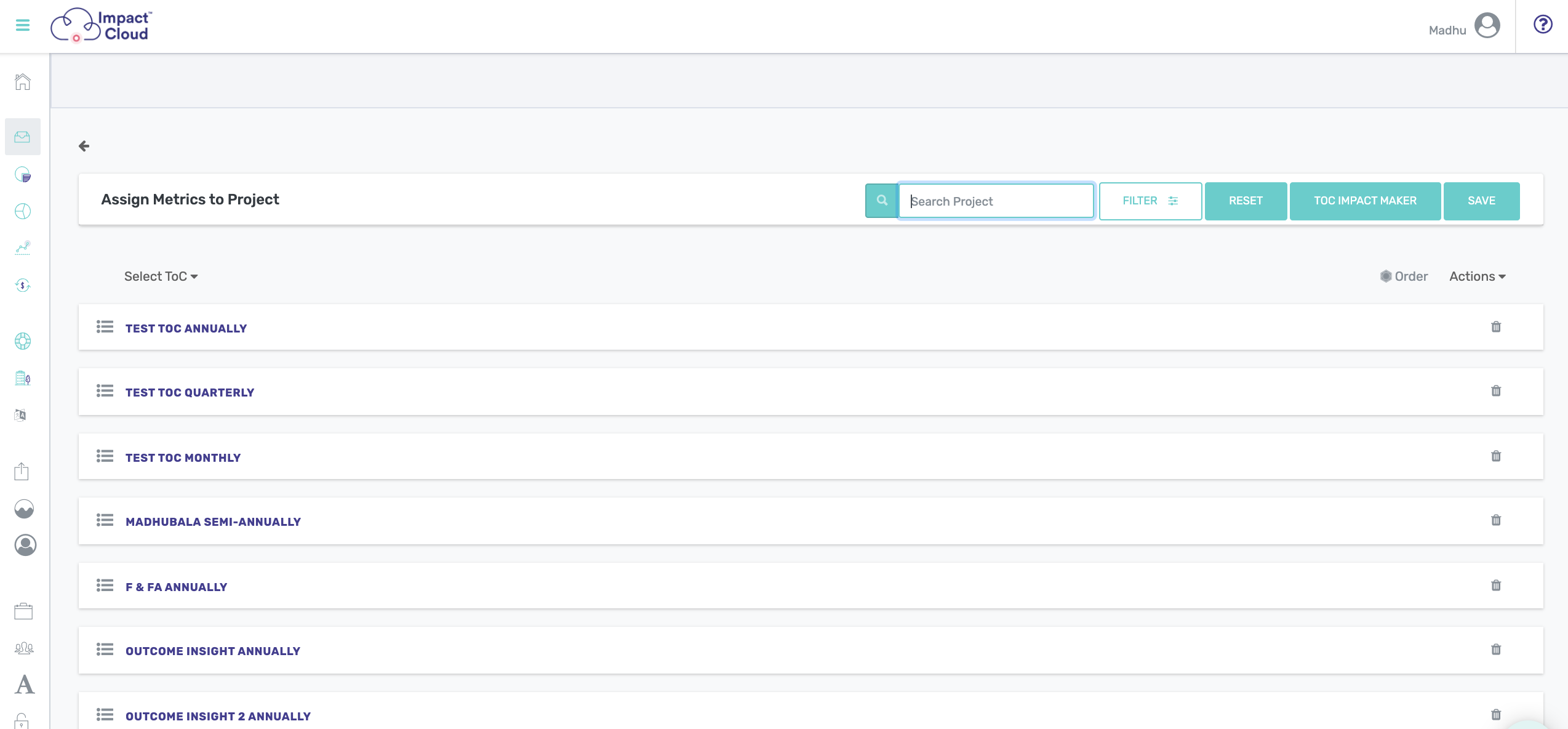 Bug fixes and performance improvement
There have been many big and small performance improvements and bug fixes.
_____________________________________________________________
Release date: 27th April 2020
Fully automated Outcome Insights
Aggregating and comparing impact metrics across your portfolio of projects and investments just got radically easier with our new automated Outcome Insights.
Just collect data on the impact metrics and navigate to Outcome Insights
You would be able to see all the different analytics/visualization possibilities without breaking a sweat

You will be able to switch between different analytics possibilities by switching the options on the "VISUALIZATION TYPE " drop-down (shown below)
You can bring upon the explanation for each visualization type by clicking on the ? icon right next to the drop-down.
You may use the filters on the right to see specific scenarios of your choice
The charts may be moved to the Dashboard using the "Save Chart" functionality - You can create a new dashboard right from the same popup (as shown below)
Dashboard creation without navigating away from Analytics application
And now you do not have to go to the dashboard to create one. Be it Project Insights, Outcome Insights or Portfolio Insights, you can now
Do all the analytics tasks on these applications
Create visualizations and save it on the Dashboard from the same screen
If the dashboard doesn't exist, no problem, just create one from the same screen
All new Data View screen for Impact Maker Projects
We have greatly simplified how metrics data is viewed, computed, and edited for Impact Maker projects.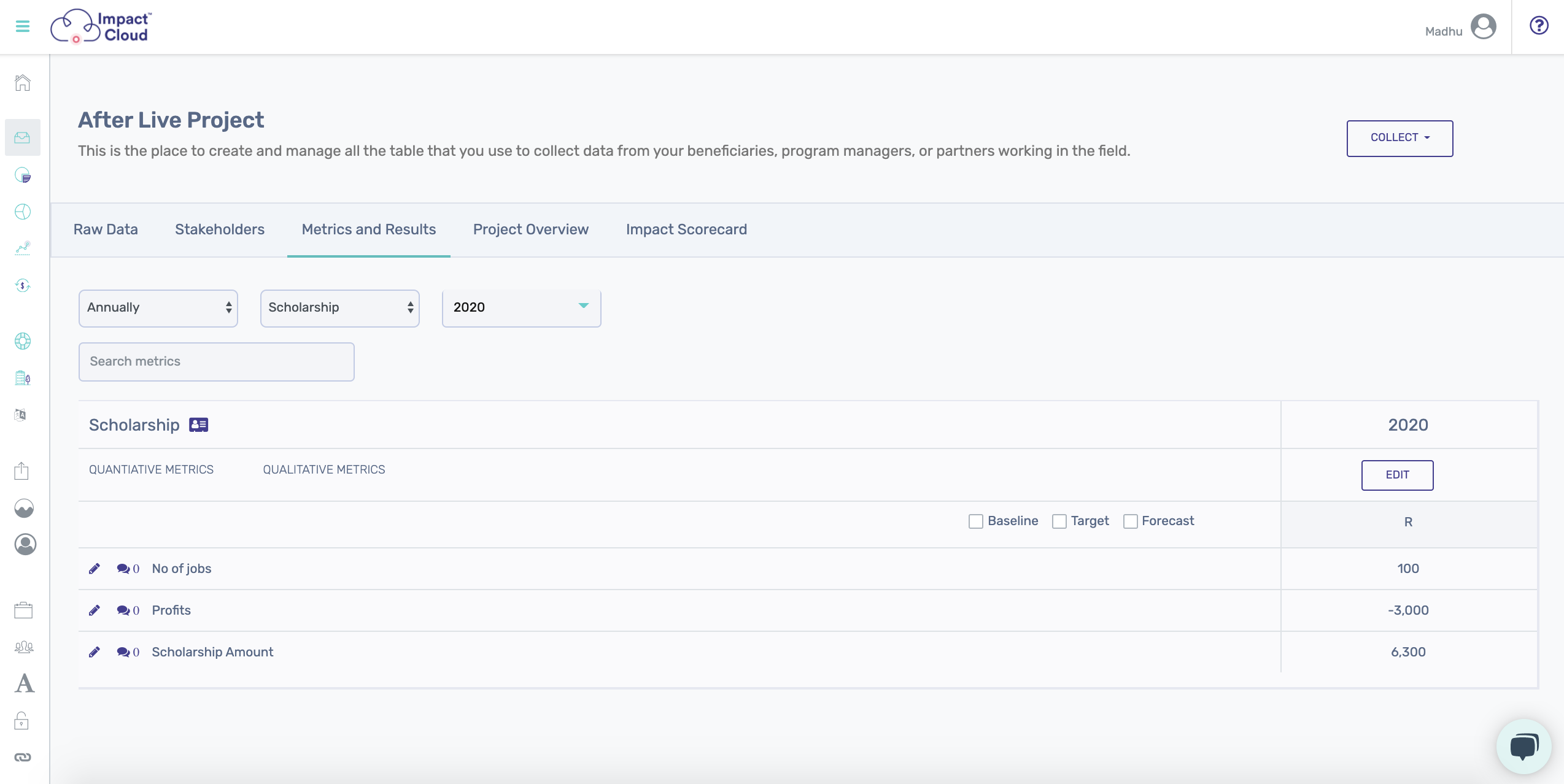 If you have metrics assigned to this project, the screen will show you the metrics for latest period (2020 at the time of this writing) whether or not you have data for that period
Data can be edited right on the screen by clicking on the "EDIT" button
You may choose a different Frequency/Metric Set/period from the drop-downs that appear on the top
Note: The screen remains blank in the case where you have not assigned any metrics to the project
Dynamic computation of formula metrics based on raw data
If you have configured formula metrics that connect raw data collected from stakeholders to the metric, the data on these metrics will be computed dynamically as you collect stakeholder data using either
Stakeholders survey
Enter the data from the self-report form
Collect data using mobile offline data collection
Duplicating projects for multi-site deployment
Do you have a project that needs to be deployed in another location with all the metrics, and surveys along with data types and definitions? You can now duplicate the project and all of its metrics and survey definitions without breaking a sweat with the new clone project feature.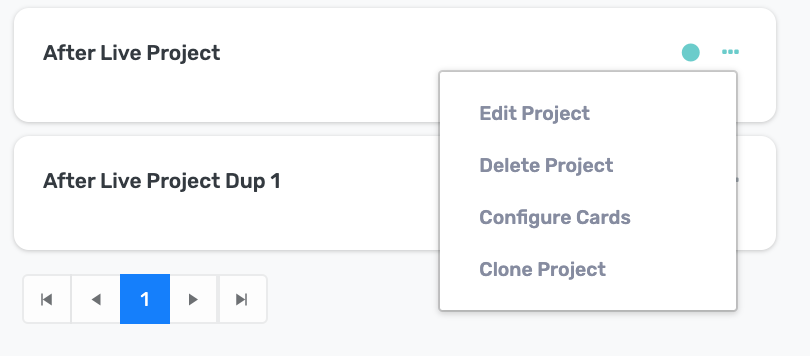 Creating multiple records in Impact Maker Tables
Impact Maker table has now been enhanced with a feature to create multiple records with great efficiency. To create a record just navigate to an Impact Maker project table and click on "Create Record"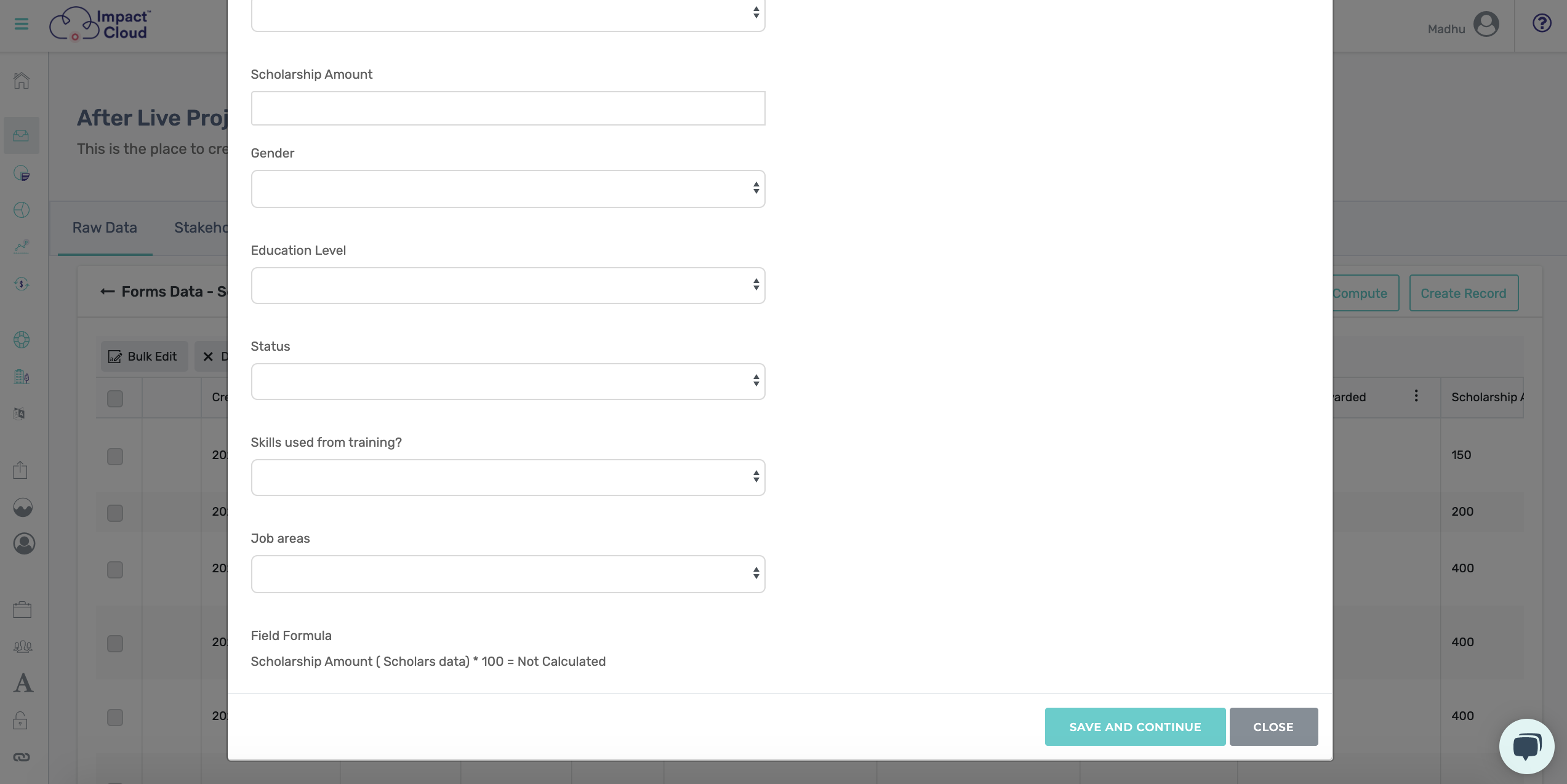 You can create multiple records by clicking on "Save and Continue".
Metric survey for Impact Maker
Collecting data on project metrics just got a big boost with a metric survey for Impact Maker. You can now send a metric survey directly to your project or program managers to collect data on the impact metrics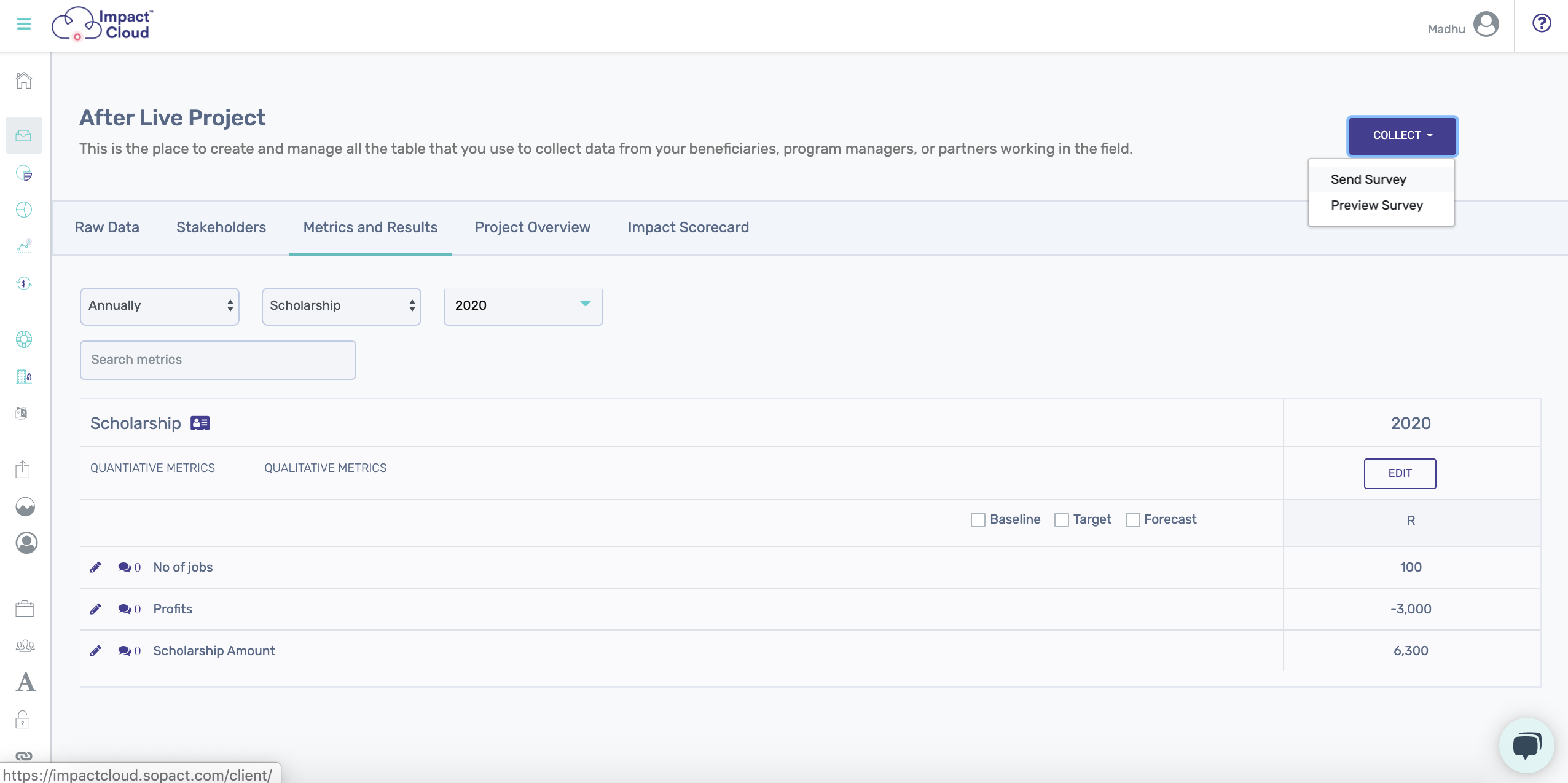 Formula metric (between metrics) for Impact Maker
You now have the ability to create a formula metric that can perform mathematical operations between different metrics and display the results over time.
For example, You may create a metric "Total number of Jobs" that adds two other metrics "Full-time Jobs" + "Part-time Jobs"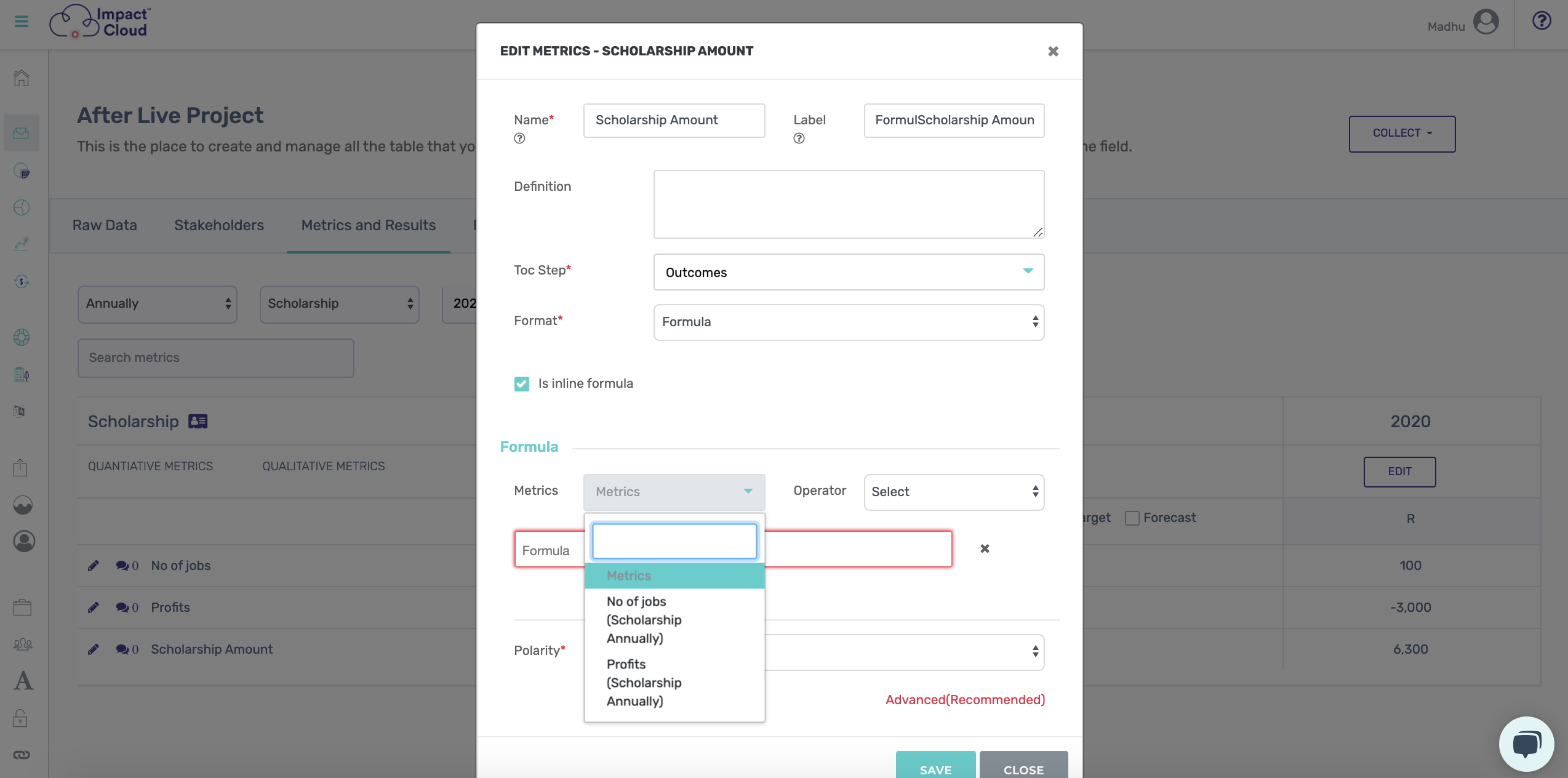 Impact Management Project
The much-awaited Impact Management Project is Live. You can now measure the impact of the programs, investments, and projects using the five dimensions of Impact.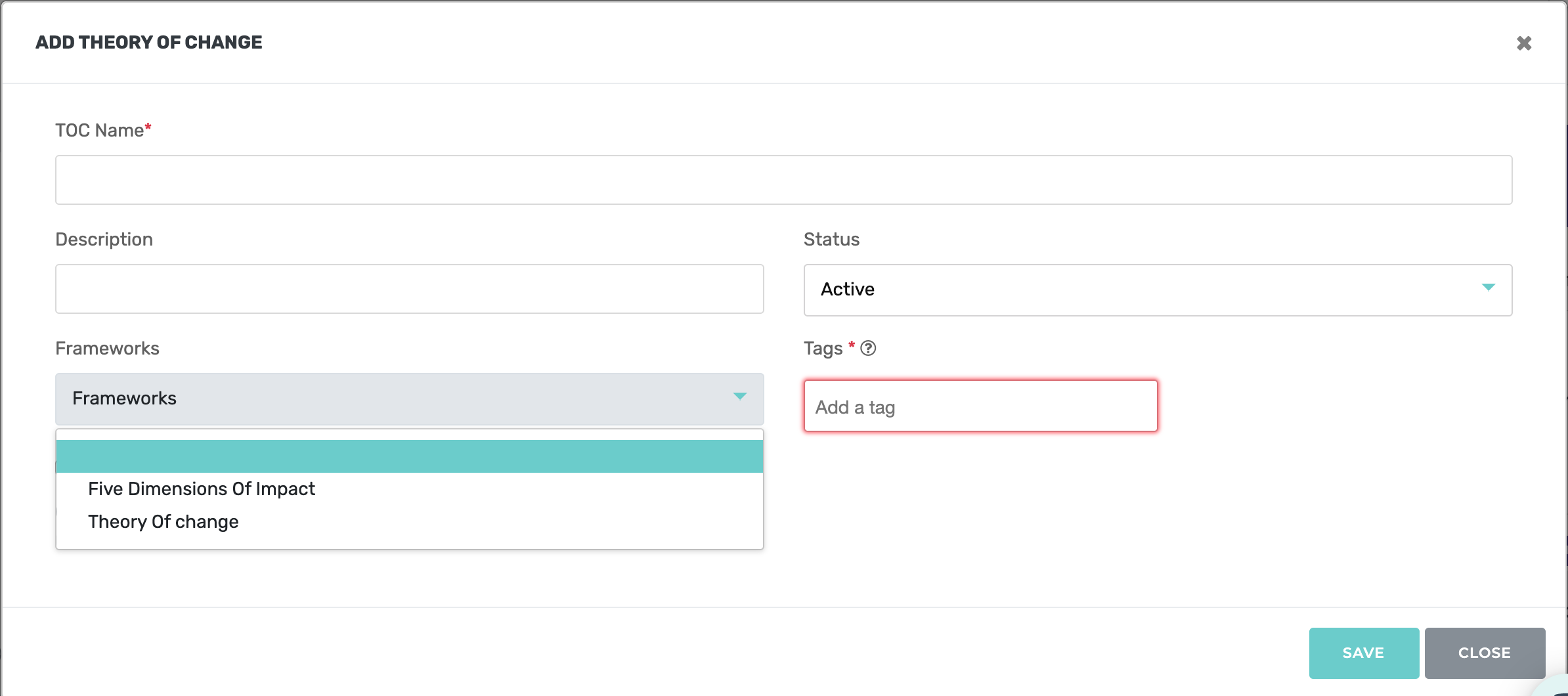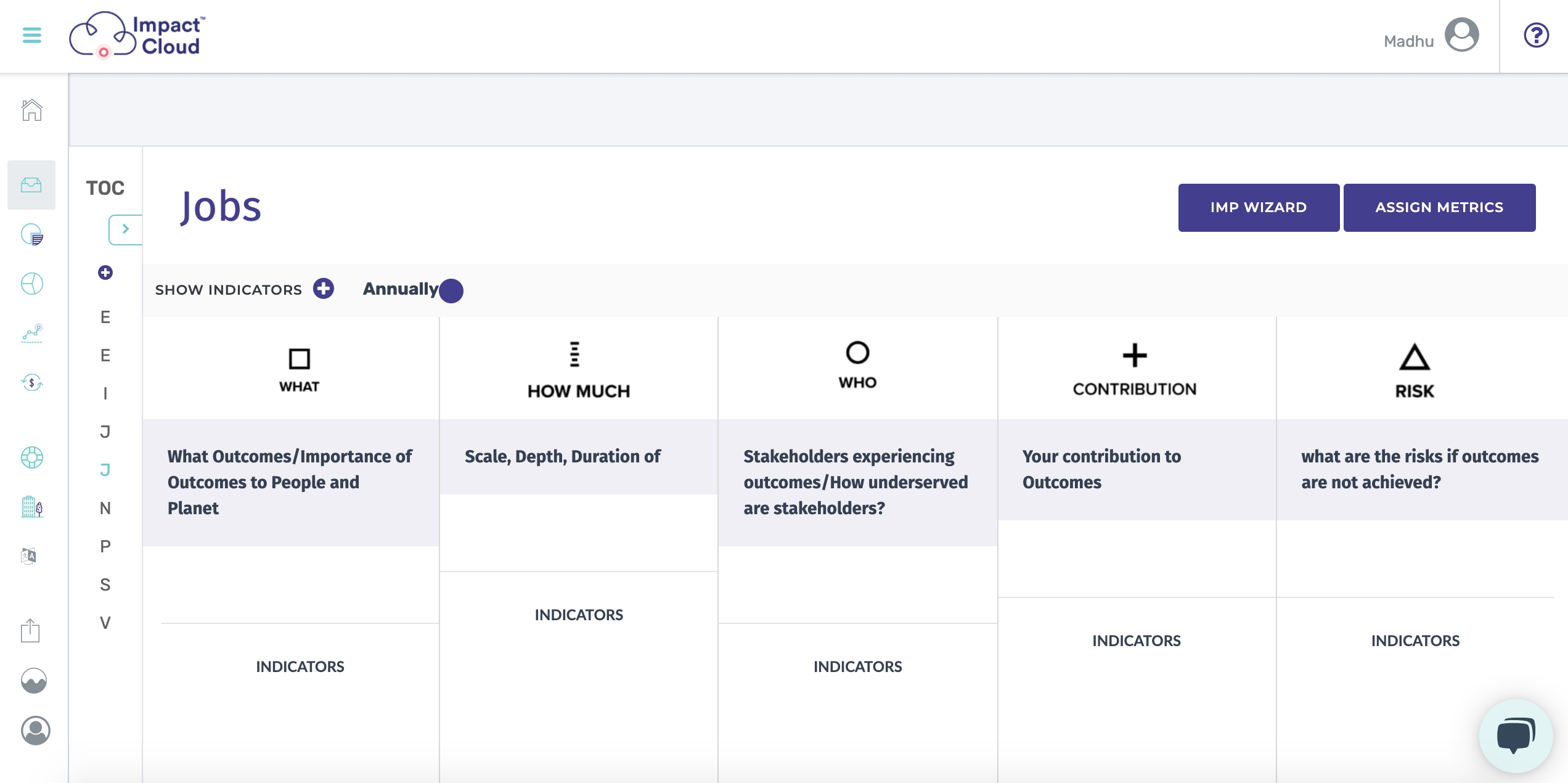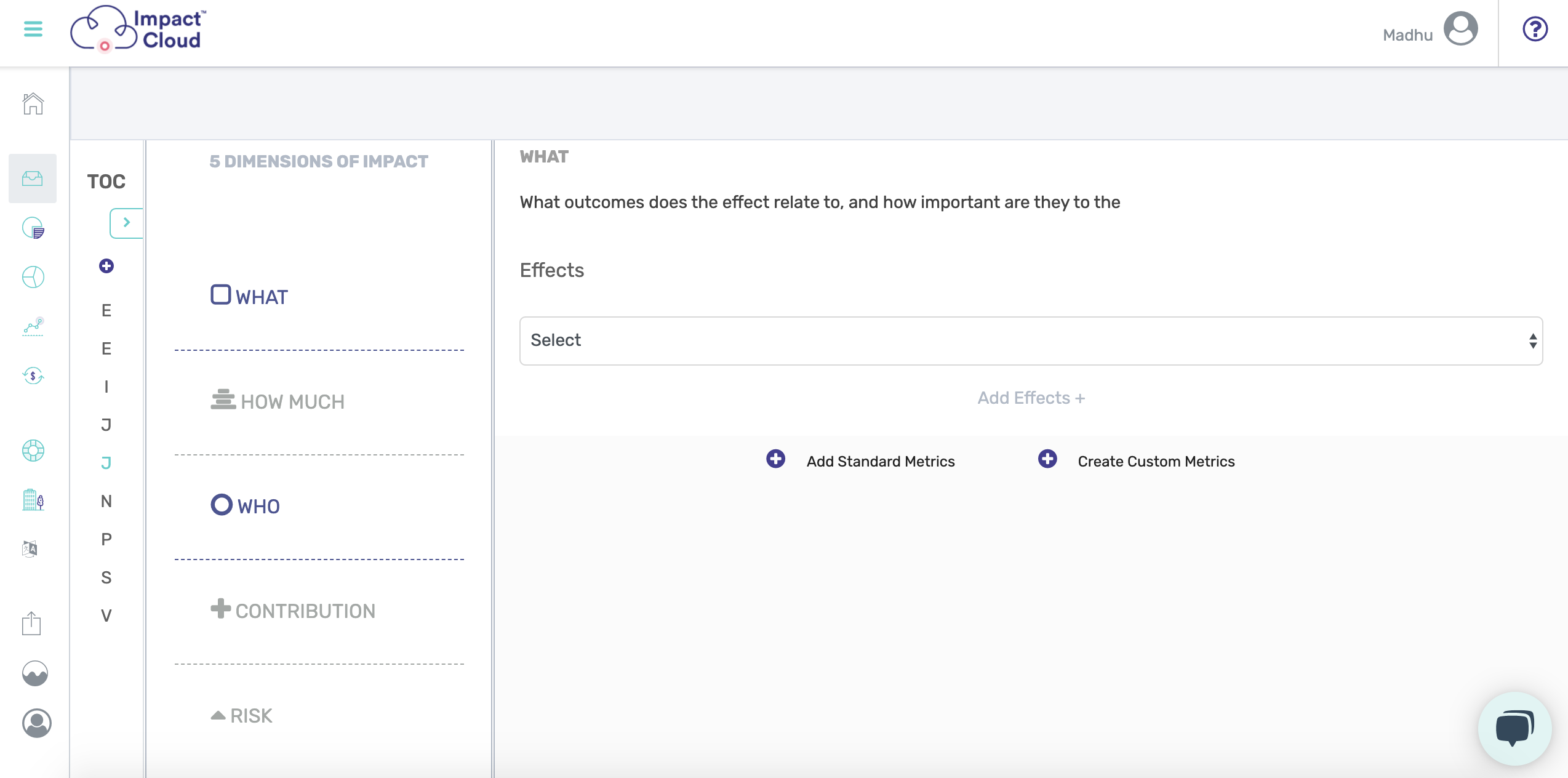 Bug Fixes and Performance Improvement
There have been many minor and major bug fixes, design improvements, and performance improvements.
__________________________________________________________________
Release date: 26th February 2020
Metric comments in Investments/Projects
Viewing/adding/editing impact metric comments just got better. You will now easily be able to view the comments left by your investments or projects on metrics during the data collection.
Navigate to the particular investment or project and go to the data view screen and every chat icon shows the number of comments made on the given metric.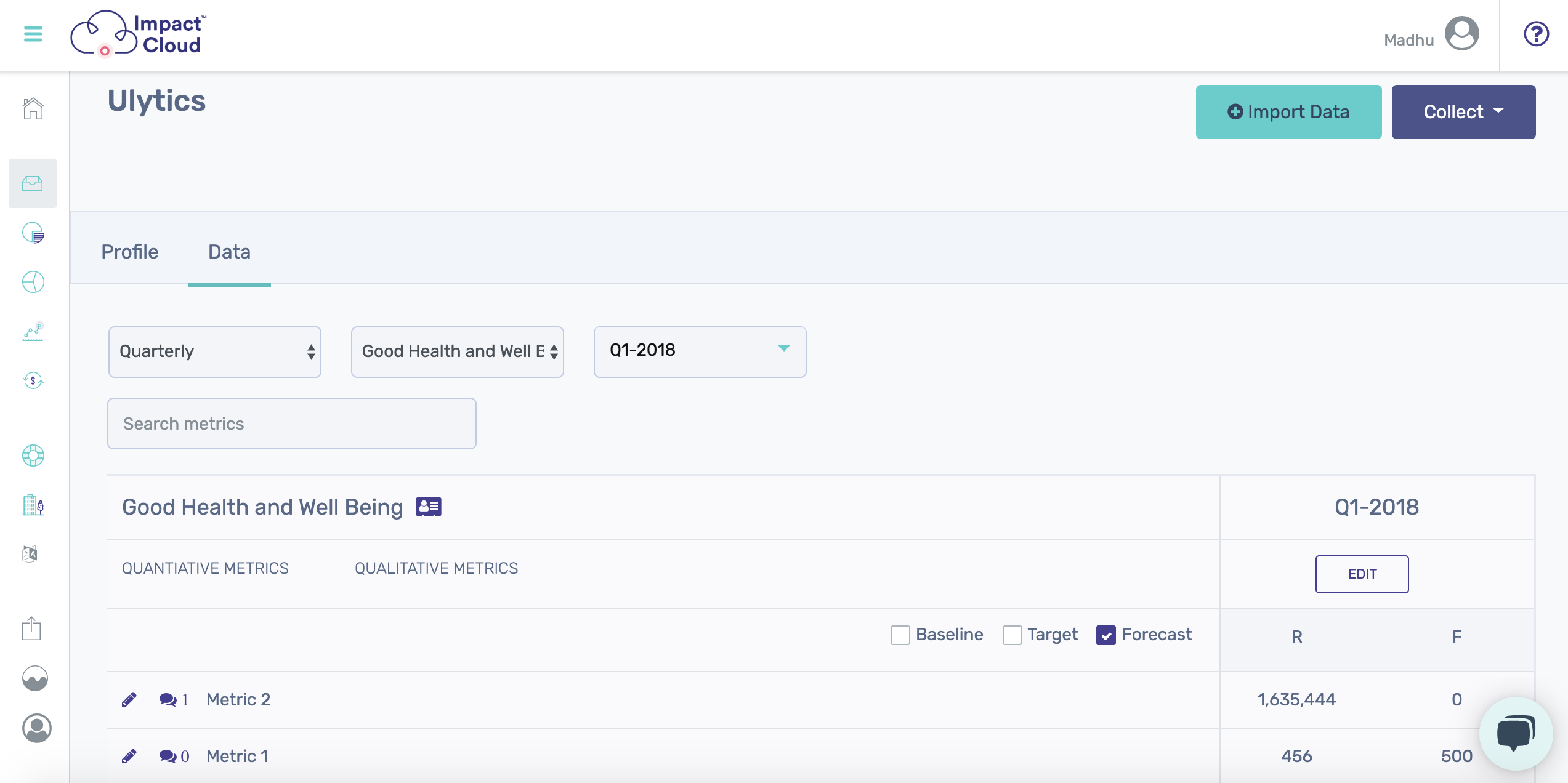 Bug Fixes
TOC creation problem that prevented users from creating a TOC from scratch
Project Insight bug on analyzing data overtime
Refresh issue on the deletion of project or investment which prevented the deleted entity from disappearing from the screen
Survey Title and Description deletion bug that prevented users from deleting the Title and Description from a metric survey once they were set
Broken unsubscribe link on the survey reminder email notification that prevented users from stopping the automated survey email reminders
Data view screen in Investments showing both quantitative metrics and qualitative metrics on a single tab
_____________________________________________________________
Release date: 18th February 2020
Impact Manager metric survey improvements
The process of collecting data from your investments or companies just got easier in many ways.
Clear labels on what reporting period the data needs to be reported on
Fully automated survey link expiry functionality with labels showing the days remaining for the survey link to expire
"Saving" message displayed at the bottom to reassure the user of data being saved
Ability to "save and continue" data reporting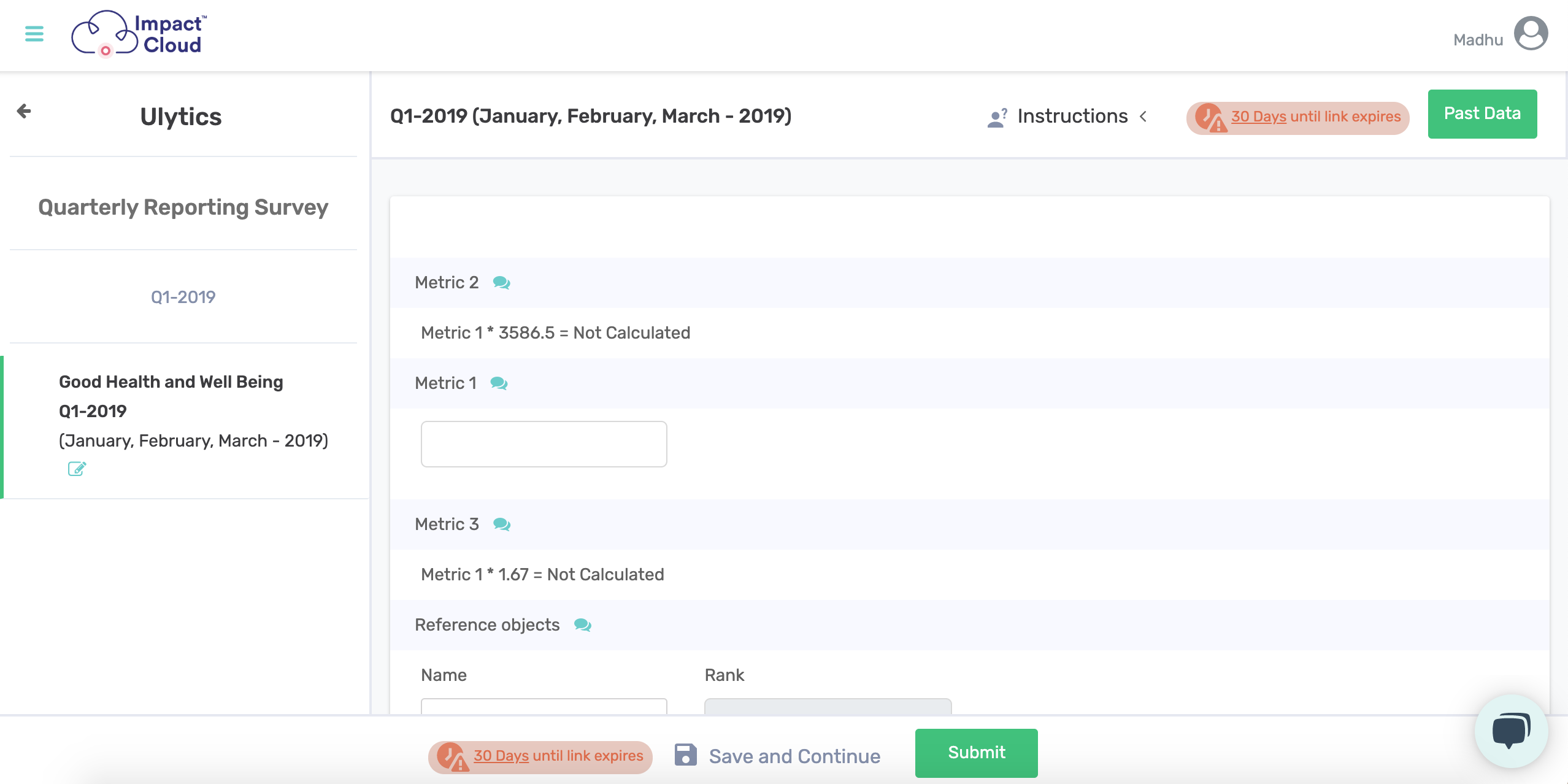 Fully automated email reminders for data collection
Fund managers, asset owners don't need to manually send email reminders to their investments or companies to fill out the metric surveys.
The automated reminder is sent once every week nudging the companies to initiate the data entry process
Companies have the ability to unsubscribe from the email reminders for that particular reporting period
Reminders automatically stop going out once the investments or companies finish their data entry by clicking on "Submit"
The reminders also stop when the expiry of the survey is reached
There is a mandatory reminder sent two days prior to survey expiry irrespective of investments or companies opting out
Modifiable reminder email templates
Organizations can have their own email reminder templates that let them put up email subject and content of their choice. The templates come with the following capabilities
Separate templates can be set for data entry reminders as well as the reminder that is sent two days prior to survey link expiry
Include the reporting period in the subject line so the companies or investments know what reporting period they need to report the data on
Password reset for survey responders
Impact Cloud users including organization admins, collaborators, partners (Companies or investments that report data on s survey) can set their own password to access their accounts.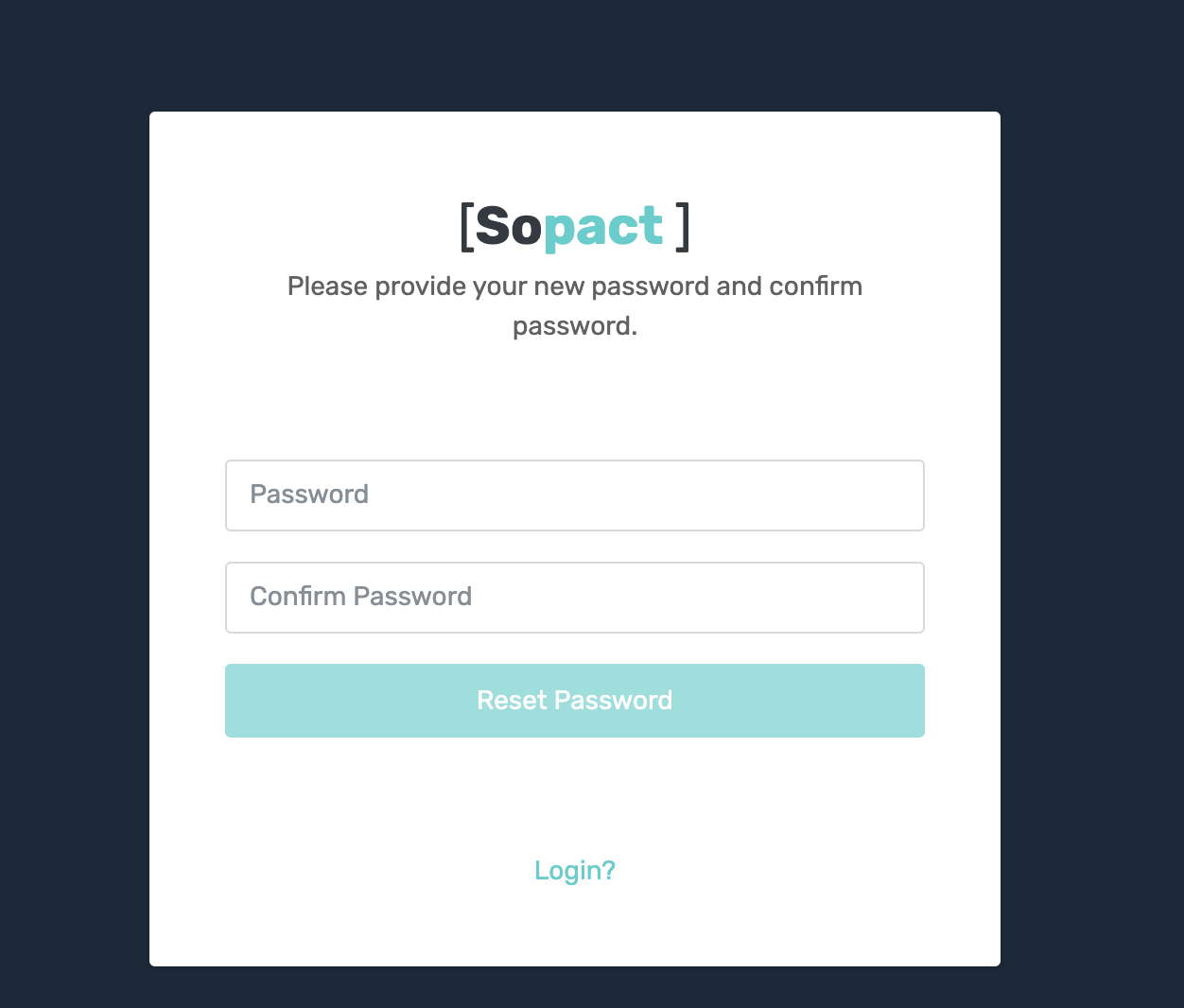 _____________________________________________________________
Release date: 11th February 2020
Data view screen for Investments(Impact Manager)
The ability to view/update/add data for metrics just got easier with our new data view screen. Just navigate to one of the investments that you manage on Impact Cloud and you'll see a whole new window that shows you the metrics and its results. By default, this screen will show you metrics data for the latest reporting period and for metric sets in the following order Annually/Semi-annually/Quarterly/Monthly. If there is no data in any of the metrics, the screen stays blank.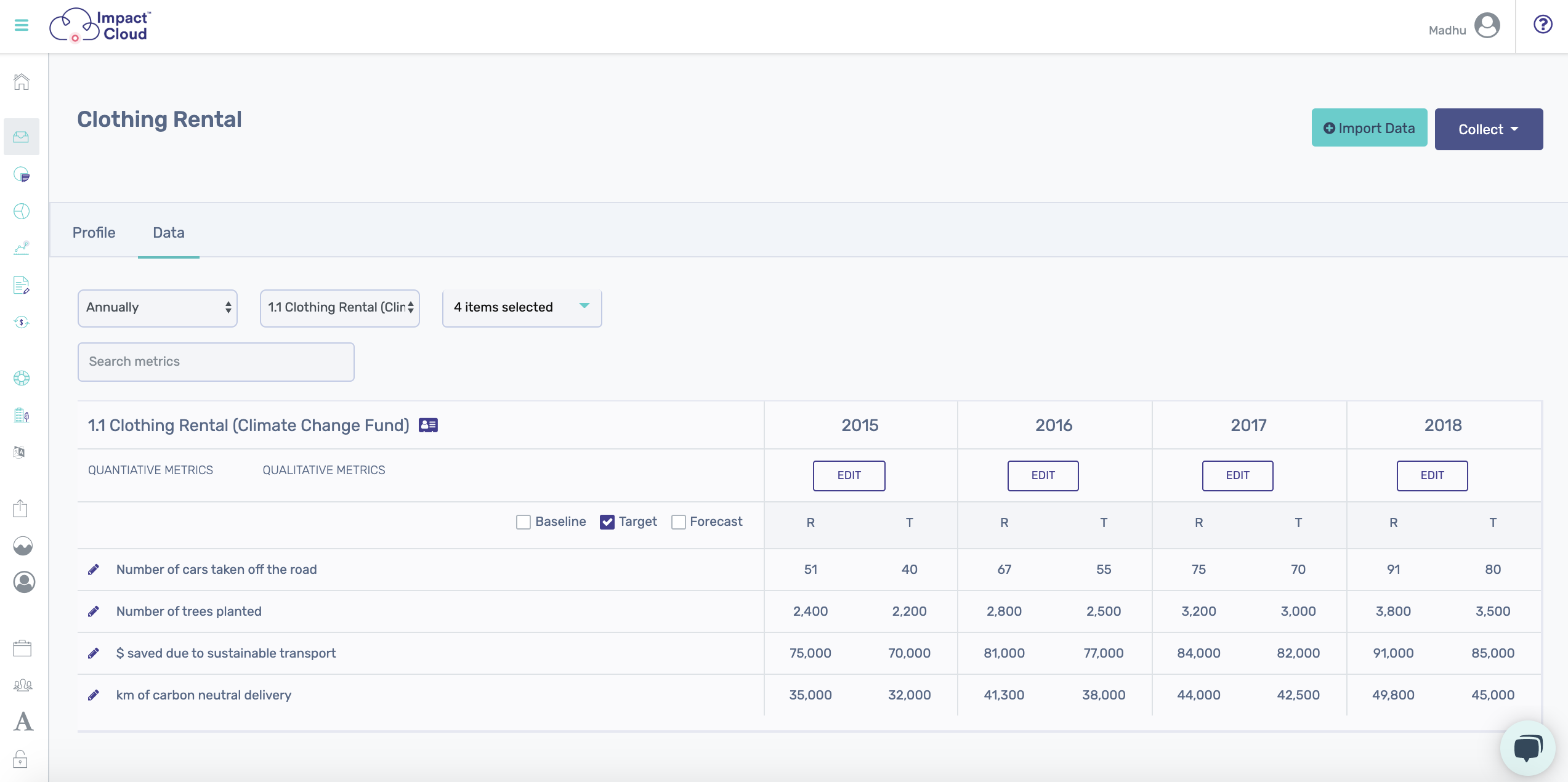 Collaborators for Investments(Impact Manager and Impact Maker)
Do you have a lot of investments and projects to manage and want specific people to manage them? The ability to add collaborators and assigning them to specific investments and projects is here. You can now add a collaborator from the Impact Manager Overview or Impact Maker Overview screen and assign them to specific projects and investments. When the collaborator logs in their account, the view is limited to the investments or projects that they were assigned to. Even in the Outcome/Project Insights, they are restricted to their specific projects/Investments.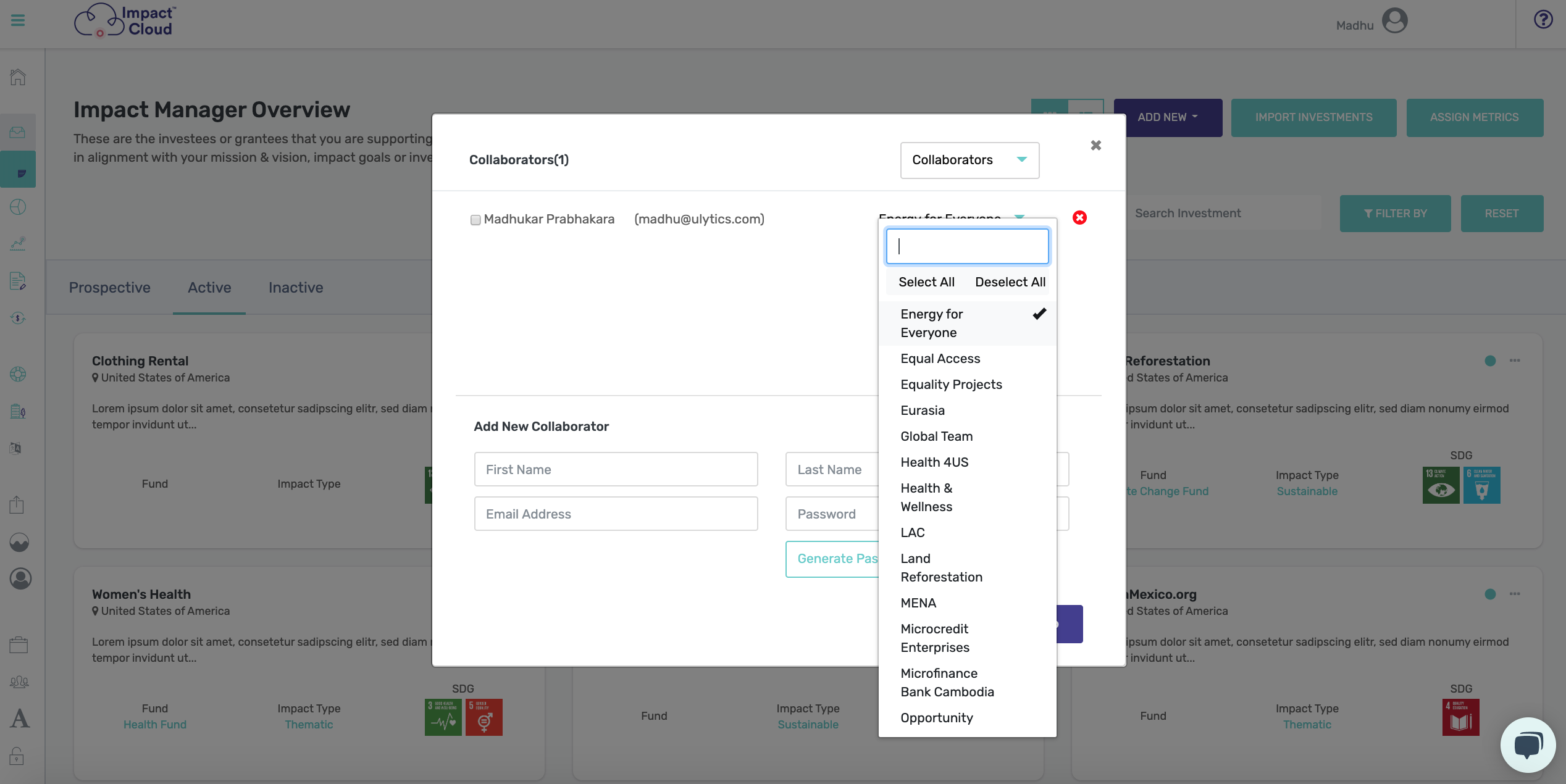 The collaborator has all the privileges of an Organization Admin but restricted to the Investments/Projects that they are assigned to or create. The investment created by the collaborator can be seen by the organization admin and the collaborator only, not by other collaborators or users.
The theory of change is the only piece that everybody has access to. The reason: it was our hypothesis that there is nothing confidential about seeing what metrics are being tracked.
The collaborator does not have access to dashboards created by other collaborators or the organization admin. We decided to keep it this way until we learn more about how this feature is going to be used.
Known Issue: Occasionally the drop-down used to assign the collaborator to a specific investment/project doesn't collapse. Please refresh the screen to recover from this scenario while we fix this problem.
Visualizing Impact metric on a geographical map (Outcome Insights)
Visualize the impact of your portfolio on a geographical map. For now, this visualization is only supported for numeric metrics (numbers/percentage/currency).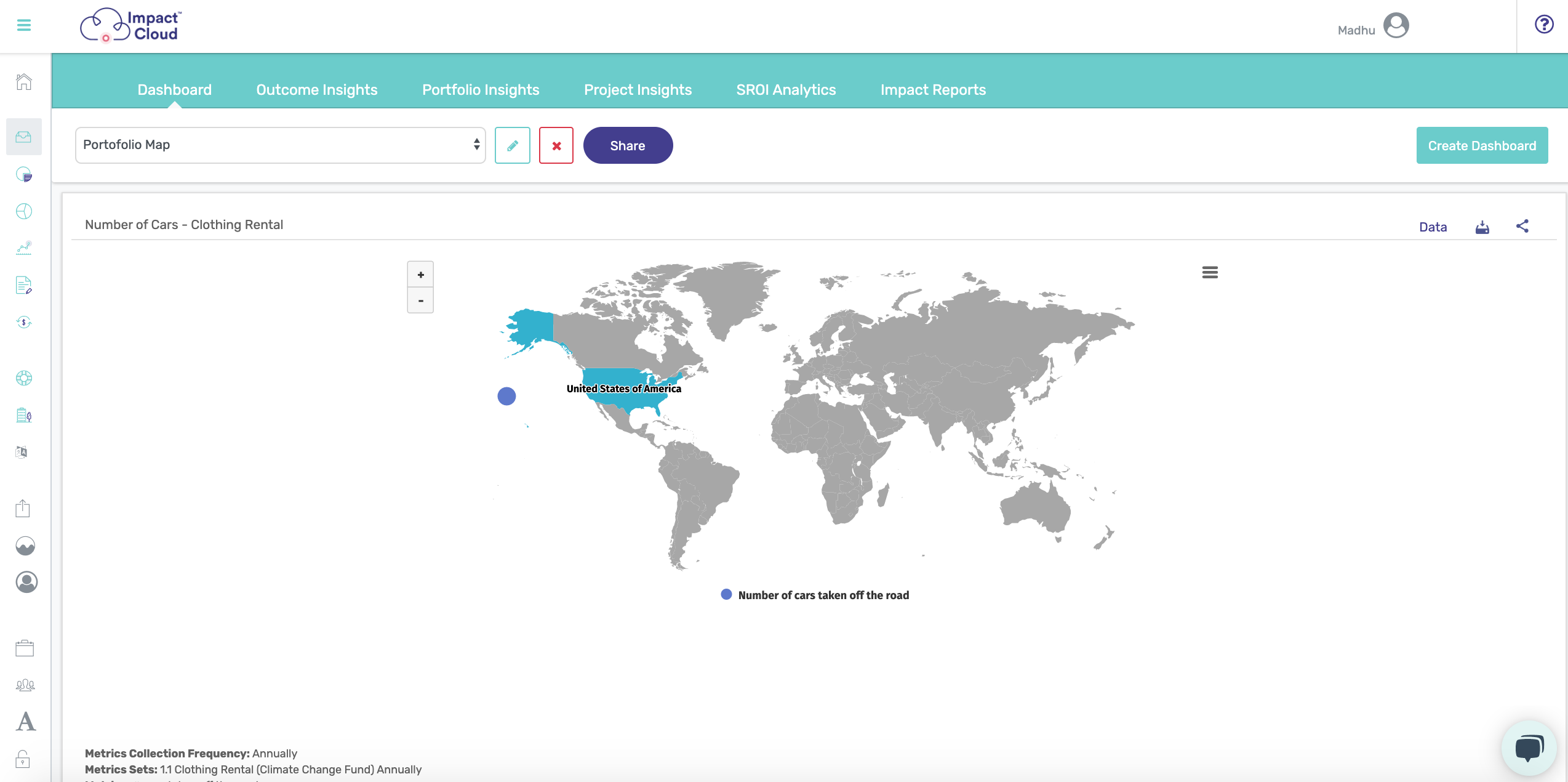 __________________________________________________________________
Release date: 9th April 2019
Filters option in partner survey
Sending partner surveys just got more efficient. When you have many investments or projects and you have multiple people managing groups of investments, filters can come in handy. Filters in partner survey screen let you narrow down the big list of Investments or Projects to a smaller list relevant to you. No more manual selection of Investments/Projects.
Performance improvement on Metrics assignment screen
If you were ever irritated waiting for a long time on the metrics assignment screen, now is the time to celebrate. In this release, we packed a "Load More" feature on the Impact Cloud metrics assignment screen. With this update, the days of a long wait on this screen are gone. By default, the system is going to bring up only 10 investments, and this is what a human being can see at a time. If a user wants to look at more investments, the user needs to click on the "Load More" button which brings back 10 additional investments. Further optimization on this is coming soon.
Pagination option on Inactive Investments
Pagination option was provided to navigate through the list of inactive investments. This didn't exist before.