Impact framework for social purpose organizations
Current State Design
Before we improve your future state impact framework, it is important to document your current state. Since requirements for funders and social purpose organizations are different, we invite you to see
Framework: Step by Step
The future state impact framework is about streamlining current processes and improving data collection for continuous learning and improvement. The better-designed system must have a robust structure that aligns with portfolio and/or program objectives. As you build a framework, you must achieve the following key goals:
Proper alignment between key impact ecosystem partners
Alignment with standards, structures, and guidelines for reporting purpose
High-quality metrics reporting that allows robust aggregation of results, reporting of individual partners and continuous learning and improvement
As your portfolio grows, your framework, data collection, and reporting complexity will increase. This is perhaps the single most factor in selecting your future impact measurement & management platform. Will your platform allow flexibility as you grow?
We recommend following best practices in designing your framework
Don't start from scratch.
Chances are that some in impact community have built impact strategy. For example, if you are an impact investors go look no farther than GIIN. GIIN recently came up with IRIS+ taxonomy and impact themes. For example, let's say your focus is on financial inclusion or healthcare delivery system, just browse IRIS+ profiles on the GIIN website and boom! Add metrics that are relevant to your needs and remove metrics that you don't that's it!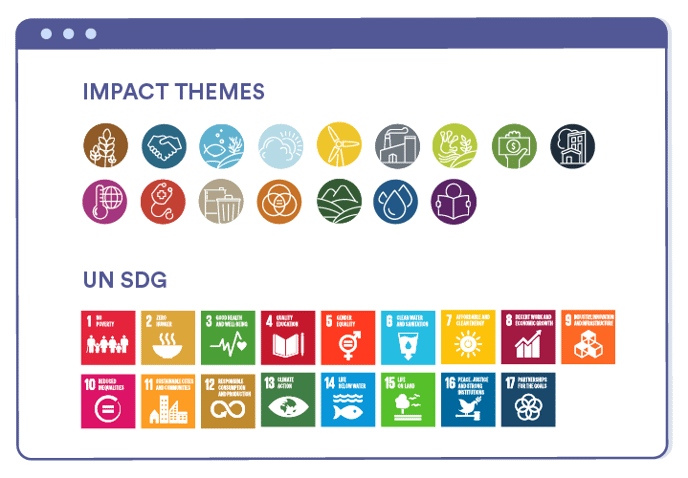 Alignment with Sustainable Development Goals
While communicating your impact, especially when you raise investments, often investors and enterprises look for alignment with Sustainable Development Goals, SDG Targets, and Indicators. In fact, without this alignment, funders usually don't even start a real conversation for funding.
Align Impact Metrics and Data (and Data Sources)
Finally, the last and the essential principle is to align your data sources for different programs, stakeholders, outcome surveys, and operational with the impact metrics.
Aligning data with metrics allows us to monitor the progress of key indicators, build robust impact evidence, and track the outcome of stakeholders regularly.
How do we present different types of impact evidence?
Download eBooks
Building Impact Framework
Impact Practitioners are a foundation for the impact measurement and management community. Thousands of practitioners from social value international networks, evaluators, and a new generation of tech-savvy practitioners enable a broad range of clients from nonprofits to businesses. While these practitioners often help clients based on Excel templates and frameworks, usually they end up recreating similar things are different clients with no long term reuse. SoPact Impact Cloud is one of the most innovative impact measurement and management platforms that can enable practitioners through a more streamlined approach.
This video is designed for impact practitioners who work with early-stage organizations who want to start on impact management journey. These organizations are often well-intentioned who would like a consultant driven approach to design the right impact strategy, stakeholder data collection, analysis, and impact reporting. We will give you a walkthrough on how a practitioner can manage an entire lifecycle with limited support from the organizations. These organizations often are limited, but they can play an essential role in validating impact strategy, mobilizing stakeholder data collection, and co-create impact report. SoPact is officially working to build long term strategic partnerships. In some instances, we are also looking forward to building a stronger country or regional competence center where language, culture, and business practices tend to differ. The benefit here is that leading networking head, often social value international chapter can take the lead in learning and expanding through local partners ecosystem who may have a different set of clients from corporates, foundations, nonprofits, or social enterprises. In each instance, SoPact will do initial handholding (often for the first few clients). Once consultants or competence center is trained, usually we take a back seat and support them for technical assistance. For a successful partnership, it is vital that the partner has a long term strategy with a strong history of similar project executions and a roadmap of growth in impact measurement and management consultant or advisory role.
Share the following impact strategy for review before
Build customized youtube channel from SoPact YouTube Channel with video necessary for your enterprise (add your custom video!) and share
Build customized 1-2 days workshops
Share login with impact practitioners to build their own impact strategy
Design and mentor your enterprises
Example Plan
Step One: Impact Strategy
Our journey of impact commitment started with B-Corp certification and moved to impact measurement and management with Sopact. Sopact Impact Cloud® allowed us to align with multiple standards such as Sustainable Development Goals, Impact Management Project, Aeris, and GIIN-IRIS+. We also followed Actionable Impact Management (AIM) guidebooks to define our impact strategy.
Step Two: Metrics
Capital Plus Financial and SoPact defined the outcome and output metrics. Some of the output metrics were defined based on the data that Capital Plus Financial was already collecting. The outcome metrics were new and based on what is realistic for Capital Plus Financial to collect from the beneficiaries and within the context of affordable housing.
Step Three: Data Collection Strategy
We defined the sources of data for each of the metrics, meaning if we needed to summarize the loan system data, for example, to get the total number of female borrowers, or if we needed to get the data from a survey.
Step Four: Stakeholder feedback Collection
We selected a set of questions to get direct feedback from our stakeholders (translated the questions to Spanish as per our community need) and added additional context. We tested and refined the survey before sending them out to 781 beneficiaries from communities we served in Texas using Impact Cloud. The initial response was low. To be able to include as many stakeholders' voices as possible, Sopact inspired Capital Plus Financial to put together a campaign of calling the beneficiaries, and it paid off with 23% responses! (=Confidence level 95%)
Step Five: Analyzing, Learning, and Demonstrating Impact
Our feedbacks were analyzed and visualized in a dashboard, including all the key outcome and output indicators, and additional questions that can give Capital Plus Financial initial learnings about their current process and customer satisfaction. It only took 2-3 hours!
Capital Plus Financial will stay ahead of impact measurement wave by utilizing existing technology and tools needed to collect, assess, and demonstrate the impact. Impact roadmap for Capital Plus is ready, now in the future years to come to bring accountability with deep impact management.
Case Study
Company: CAPITAL PLUS FINANCIAL
Company Type: Community Financial Development Institution (CDFI)
Impact Type: Affordable Housing
Geography: Texas, USA
MISSION: As a community development financial institution (CDFI), Capital Plus Financial provides capital to markets identified as underserved by the community. Capital Plus Financial focuses on homeownership in these underserved markets, which will result in a positive economic and social impact on the stakeholders. Capital Plus Financial originates first-lien residential mortgages in low to moderate-income communities across Texas. Capital Plus Financial lends to low to moderate-income documented Hispanic borrowers. Approximately 50% of our borrowers have no credit score, and the majority are first-time homeowners.
CHALLENGE: As a publicly-traded social enterprise a dual responsibility emerges: scaling a sustainable enterprise with building shareholder value and measuring the impact delivered to stakeholders and communities.
OPPORTUNITY: End-to-end impact management to collect data at the beneficiary level and share evidence of impact on underserved groups.
SOLUTION: Impact Cloud®, a user-friendly solution to send surveys to beneficiaries and produce analytics expressing financial inclusion and better serve those stakeholders.
AFTER IMPLEMENTING IMPACT CLOUD® - a new era of impact management
Impact Strategy - After B-Corp certification, Impact Cloud® allowed to align with multiple standards such as SDGs, Impact Management Project, Aeris, and GIIN-IRIS+.
Metrics Discovery - CapPlus and SoPact defined the output and outcome metrics. The first defined based on the data already being collected. The latter was new and based on what is realistic to collect from the beneficiaries.
Data Collection Strategy - Defined the sources of data for each of the metrics, e.g., loan system data or surveys.
Stakeholder Feedback Collection - Selected, tested, and refined a set of questions for a stakeholder survey, before sending them out to 781 beneficiaries using Impact Cloud. After calling the recipients, 23% responded.
Analyzing, Learning, and Demonstrating Impact - In 2-3 hours, after key outcome and output indicators analysis, CapPlus learned about current processes and customer satisfaction. It will look into technology and tools to collect, assess, and demonstrate the impact to bring accountability and in-depth impact management.