Global Collective impact approach to scale social businesses
Do you fund or manage social impact programs? Do you care to know What and how much change your programs are really creating? How about mapping your change journey with the partners you are working with? Today I'll provide some tips for Impact Funds, Foundations, Governments, Family offices, Social Impact Accelerators, and intermediaries to design a collaborative impact management process. To simplify, we will call these types of organizations "Impact Managers."
Collective impact is an approach to align key results or outcomes and verification between key impact ecosystem players. Here are a few common examples -
1) Multiple Funders collaborate on the outcome:
Funders or impact buyers (who want to fund based on outcomes), can set up a system that aligns key metrics. Multiple funders are collaborating on an outcome and we need multiple funders and multiple impact makers to access the system. In this case, I assume collaborators and metrics survey is not required because all users have their own logins already.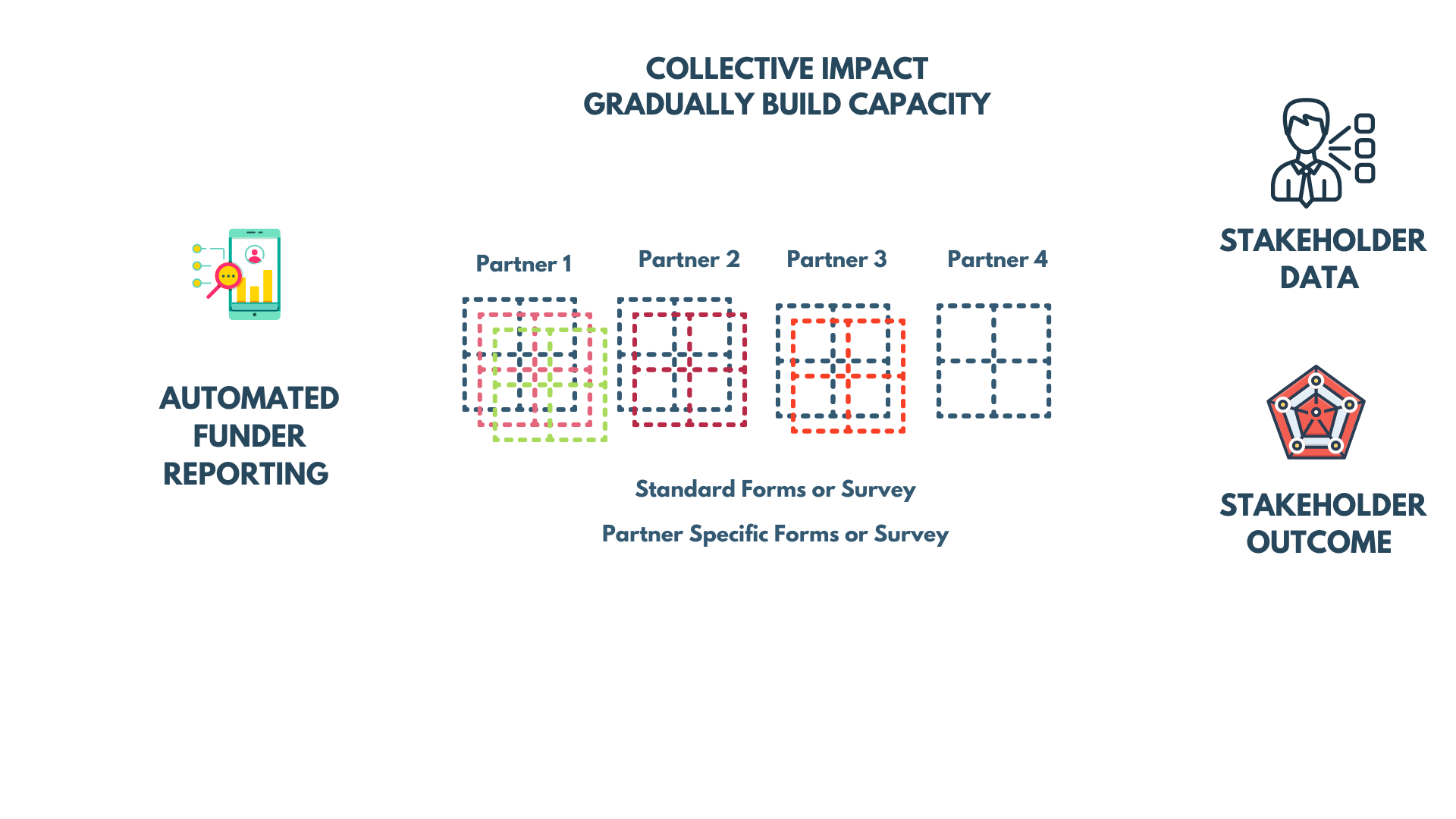 2) Single Funder or Accelerator wants to build data capacity of partners:
A common definition of collective impact is different organizations come together with common metrics.
Stanford Social Innovation describes the collective impact
as the commitment of a group of actors from different sectors to a common agenda for solving a specific social problem, using a structured form of collaboration.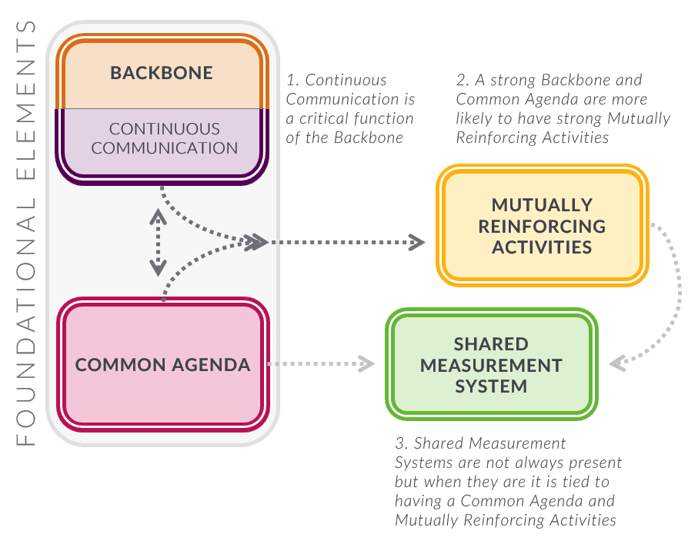 While we agree with the common approach defined by collective impact, the current approach is tightly coupled. In other words, most organizations need to come together with a common agenda, ensure that a shared measurement system with necessary funding is in place and backbone organization helps with shared visibility.
SoPact has improvised this approach in a loosely coupled manner where funders and participant networks follow a common agenda through a flexible theory of chance creation. The goal is to build a gradual framework, test shared measurement alignment, and grow based on early pilot programs. As the network grows, a flexible metrics alignment takes place based on gradual capacity building through a mutual theory of change alignment and data collection practices. Common measurement practices are built to ensure that organizations can follow consistent data collection, aggregation, and calculations. The best part here is that as they grow, they will share these best practices in data collection in a seamless manner based on innovative SAAS platform.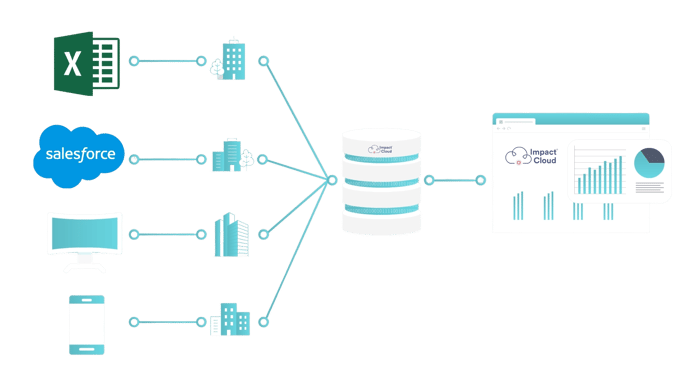 3) Social Auditing and Third-Party Verification
Impact Cloud is uniquely designed to aggregate raw program-level results. Each of the downstream organizations can set up a unique data collection, aggregation, and governance process. These results are available for parent organizations in a seamless fashion. With a simple role base "collaborator" process, appropriate permission can be given to verify results anytime.
4) Real-time Stakeholder Needs and Feedback Loop:
Funders or Impact Maker can do additional outcome-based data aggregation - Thre are many robust use cases here that I would like to explain. In Covid-19 times, we see major use cases for real-time data collection from stakeholders. To achieve that, Impact Maker can quickly set up to collect data from different sources. For example, mobile form (KoboToolbox), share in any social media such as WhatsApp and get a response back in real-time, collect data using an online survey or mobile application in an offline/online manner. The best part is that funders can see results immediately.
Funders have a rather unique opportunity to uniquely roll out feedback collection with their non-profits in a step by step manner.
Examples
COVID-19 Relief - Food Bank:
During our unique global situation, we have seen many brave organizations providing essential services to help communities in distress. This kind of support will continue for quite some time, and we expect many more humanitarian programs to emerge as we begin to experience the true consequences of this situation.
Learn how INGO is using Impact Cloud to learn food assistance and satisfaction in India.
Read More: Real-time stakeholder feedback
Impact Sourcing: Let's say that impact source organization want to build a framework for different companies, they can systematically build metrics, data collection, and a dashboard that aligns with
5) Funders can do a quick longitudinal assessment of other impact makers
Let's say impact fund or accelerator wants to understand the potential success of their portfolio of enterprises. They could build an internal model based on the social and financial maturity model. For example, REDF has built a model that puts every social enterprise along following maturity model
REDF: Maturity Model
REDF: Examples of some typical success factors for each category in each stage of the life cycle
Steps
1) Impact Cloud, you will create assessment survey questions
2) Send online survey, offline mobile form or in-person interview review responses from entrepreneurs based on the above table
3) Once all the results are collected, you can build an assessment model that can individually show improvement and rate every one of them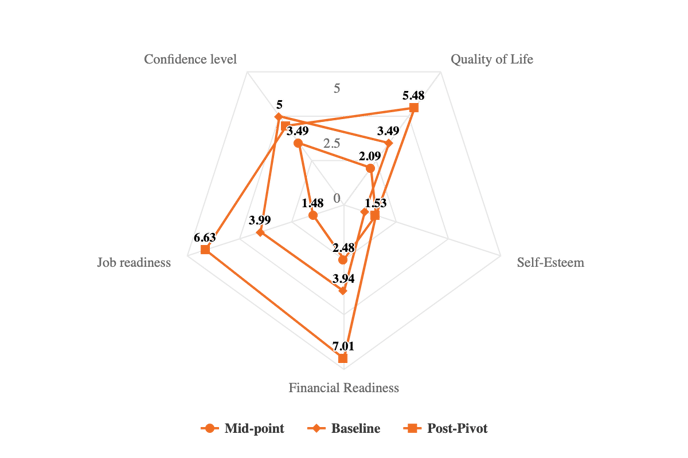 Impact Managers normally provide funding resources and collect impact data from Social Entreprises, Non-profits, or For-profits. They are called external Impact Partners.
As an Impact manager, how do you collect results from your partners?
(You can use Impact Manager Video clip)
Receive data in Excel documents from partners, grantees, and investees
Collecting qualitative data as stories in PDFs
Keep receiving one Excel book year after year
Multiple excel datasheets collected yearly over the years, data in the stories, and high staff turnover makes evaluation of positive or negative impact very difficult. Without consistent quality data, impact measurement and management is if not impossible, very time consuming and expensive!
So, how do we start?
Let's discuss the importance of having a framework, whether using Theory of Change or 5 Dimensions of Impact.
We have also talked about types of metrics and alignment to Sustainable Development Goals.
You can find the links to all these videos below.
This session will help Impact Managers understand how to collaborate with impact partners, such as social enterprise, grantees, non-profits, and investees to collect high-quality outcome data.
But before that, don't forget to smash that like button and SUBSCRIBE! Join our rapidly growing Impact Management Movement so you don't miss any of the upcoming content!
Without further ado, let's jump into the THREE STEPS to high-quality results collection.
Step 1: Document your current process
What is your Impact Strategy TODAY? Check if you have,
An impact framework such as Theory of Change or Impact Management Project
Well defined metrics to track your impact/outcome
How about your partners? Do they have an impact framework?
Do your impact framework and partner's framework align?
How do you normally collect results from your partners? (Email, PDF, Google forms, Excel spreadsheets, etc).
Do you aggregate your result?
How deep do you go to collect data? Do you collect data directly from your partners' beneficiaries and stakeholders?
You can download Actionable Impact Management Guidebooks with the link.
Step 2: Design your future state process
The future state impact framework starts by filling the gaps from the above checklist.
How can you streamline the current processes for faster data collection, consistent outcome data, higher data integrity, and true learning?
As your portfolio grows, your framework, data collection and reporting complexity will increase. So, build your future state framework flexible.
We recommend following these best practices in designing your future state framework:
Make sure you have selected the right impact framework.
If you are coming from an impact investing background, you might want to use the 5 Dimensions of Impact to demonstrate environmental and social impact, in addition to financial returns based on IRIS, GRI, SDG, and other standards.
Other organizations might prefer the Theory of Change framework.
Group your outcomes and metrics around impact themes, such as Cleantech or Job Creation. This is critical for better results collection and aggregation across multiple partners.
In some cases, the partners are so different that it is hard to align them towards a common theme. In that case, you can create a group of "core metrics", which are metrics that apply to all your partners, regardless of their area of impact, for example, "total people served." And on top of that, you can add a few more specific metrics relevant to each partner's area of impact.

Make sure to use technology that allows your partners to provide results in a timely manner. Here are some characteristics of this technology that you have to consider:

Allows you to collect results in multiple frequencies
Allows you to collect governance, environmental and financial data, on top of the impact results
Allows you to document clear definitions of calculations required for the partners to report the proper data
Allows you to analyze the results per partner and aggregated across all your portfolio
Allows you to collect qualitative and quantitative data and includes data valuation to keep your results clean and ready to use
It allows you to document baseline results and compare to annual results, targets, and forecasted values.
It allows you to collect data for different phases of your process, such as Due Diligence, Monitoring & Evaluation, and Post-exit.
And the most important one, Step 3:
Strengthen the impact reporting capacity of your Impact Partners:
We strongly recommend Impact Managers to review the data capacity of investees or grantees. Otherwise, even if the framework is tight from your side, you might not receive the quality results that you are requesting your partners to report.
Wherever the data-collection capacity of the partners needs improvement, you may advise on systems or processes to improve the quality of the outcome data.
Consider funding your partners' data capacity as this can be the biggest value created by you and for you. Good data collection and management allows continuous learning and improvement of stakeholder outcomes.
Finally, reduce the reporting burden by agreeing to the most important metrics with your partners. This collaborative process can increase efficiency and quality of outcome data thus improves Outcome Management.
Some of our progressive Impact Managers leverage the Impact Cloud platform to streamlines the data collection from partners through an online survey. It has three advantages,
It provides high-quality data validation and context.
It allows the partners to provide supporting documents, evidence, and stories.
It helps partners scale to solve global problems.
Well, thanks for watching everyone. I will leave you with these thoughts. I'm curious to hear what challenges you and your organization are currently facing when it comes to collecting, aggregating, and analyzing results from multiple partners?