This is a step-by-step guide that lets you know how to configure email templates for metric survey
Pre-requisites:
How to send metric surveys to investments/grants/projects
Keeping track of metric surveys through "Results Tracker"
Configuring email templates for metric data collection
We have options to configure three types of survey email templates
A template for the first email that goes out to the recipients when you send a metric data collection survey
Follow the below steps to configure your custom templates for the above three scenarios
The first survey email notification
After logging in to the platform, navigate to the company profile from the left sidebar (As shown in the screenshot below)

Click on "Survey Email Template" (You see the below screen)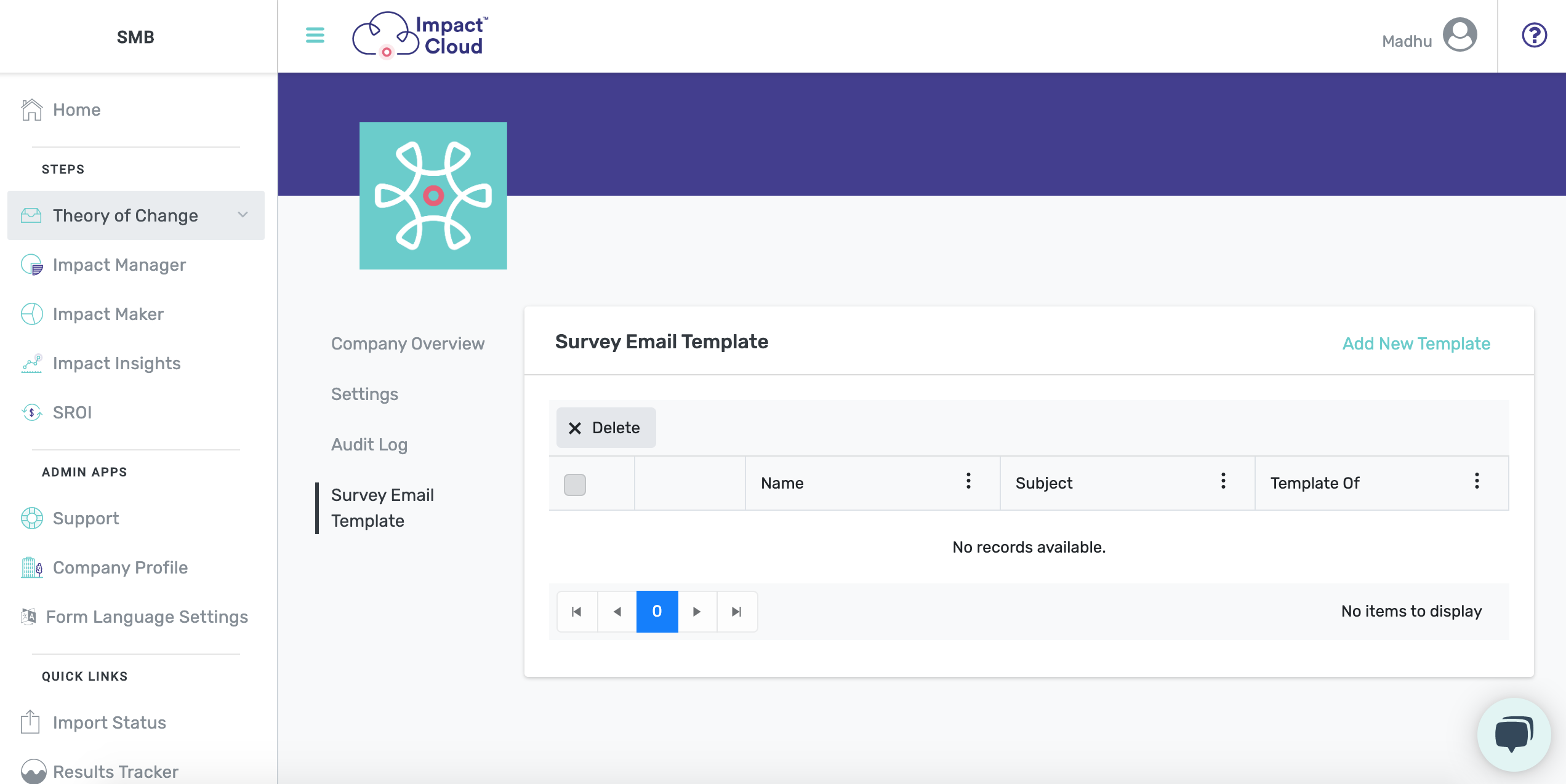 3. To configure the email template for the email that goes out everytime you send a metric survey, Click on "Add New Template" - you would see the below popup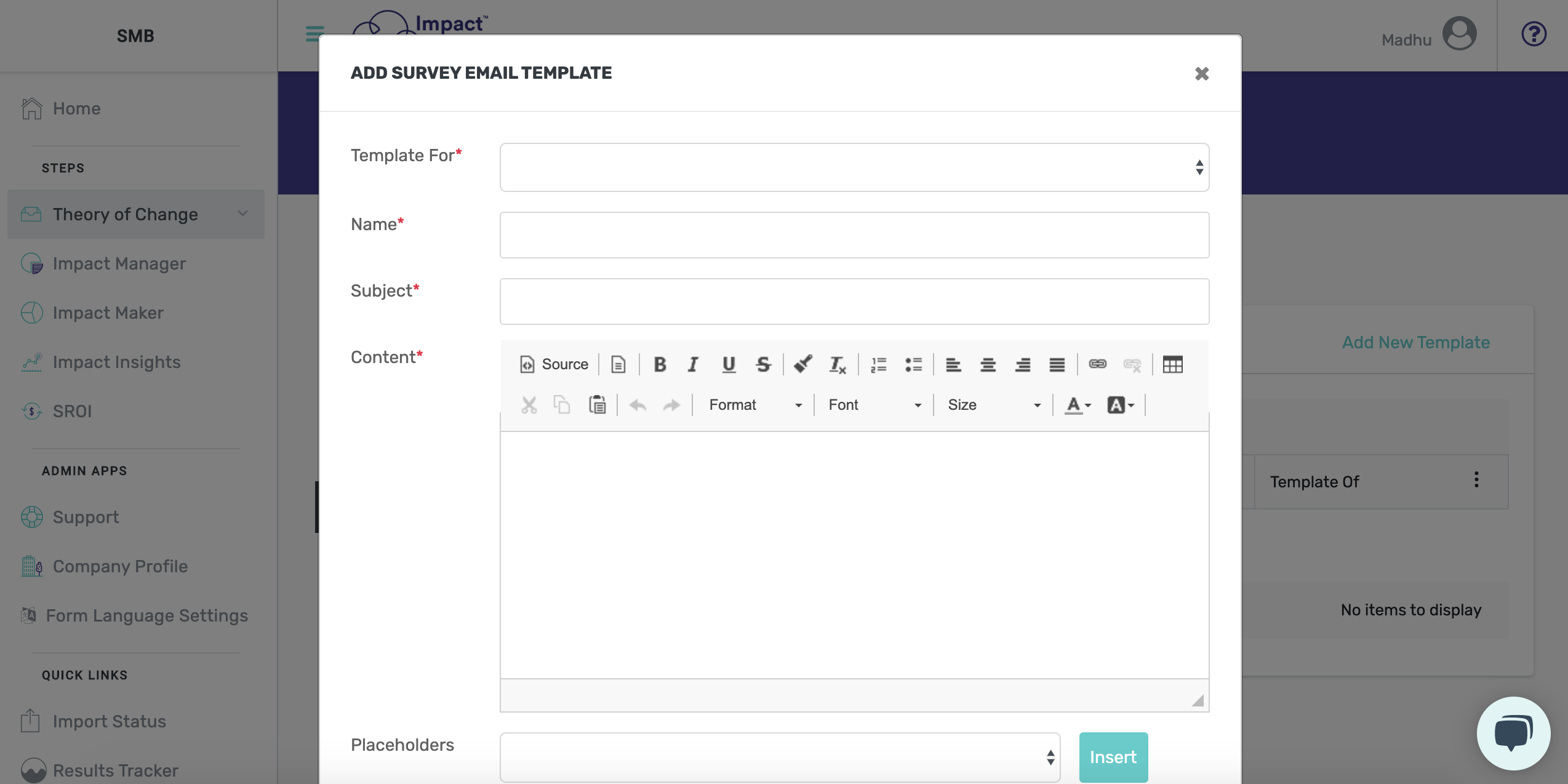 4. Choose the template "Impact Manager"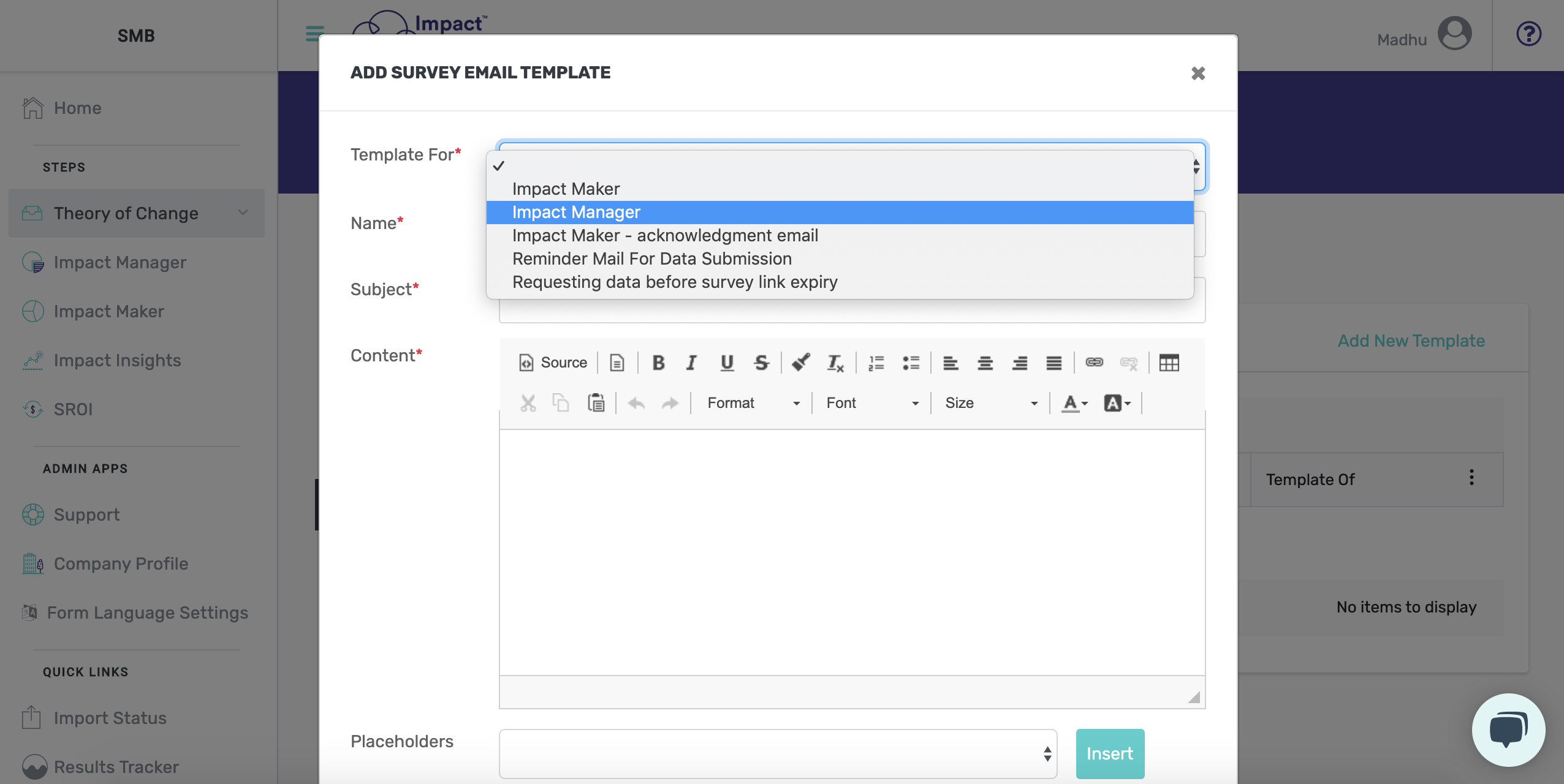 5. Set the name of the template, you can set it to whatever that helps you remember its purpose(our system doesn't use it). Set the subject of the email (This goes out in the email notification), you may use "Placeholders" in the subject and in the body.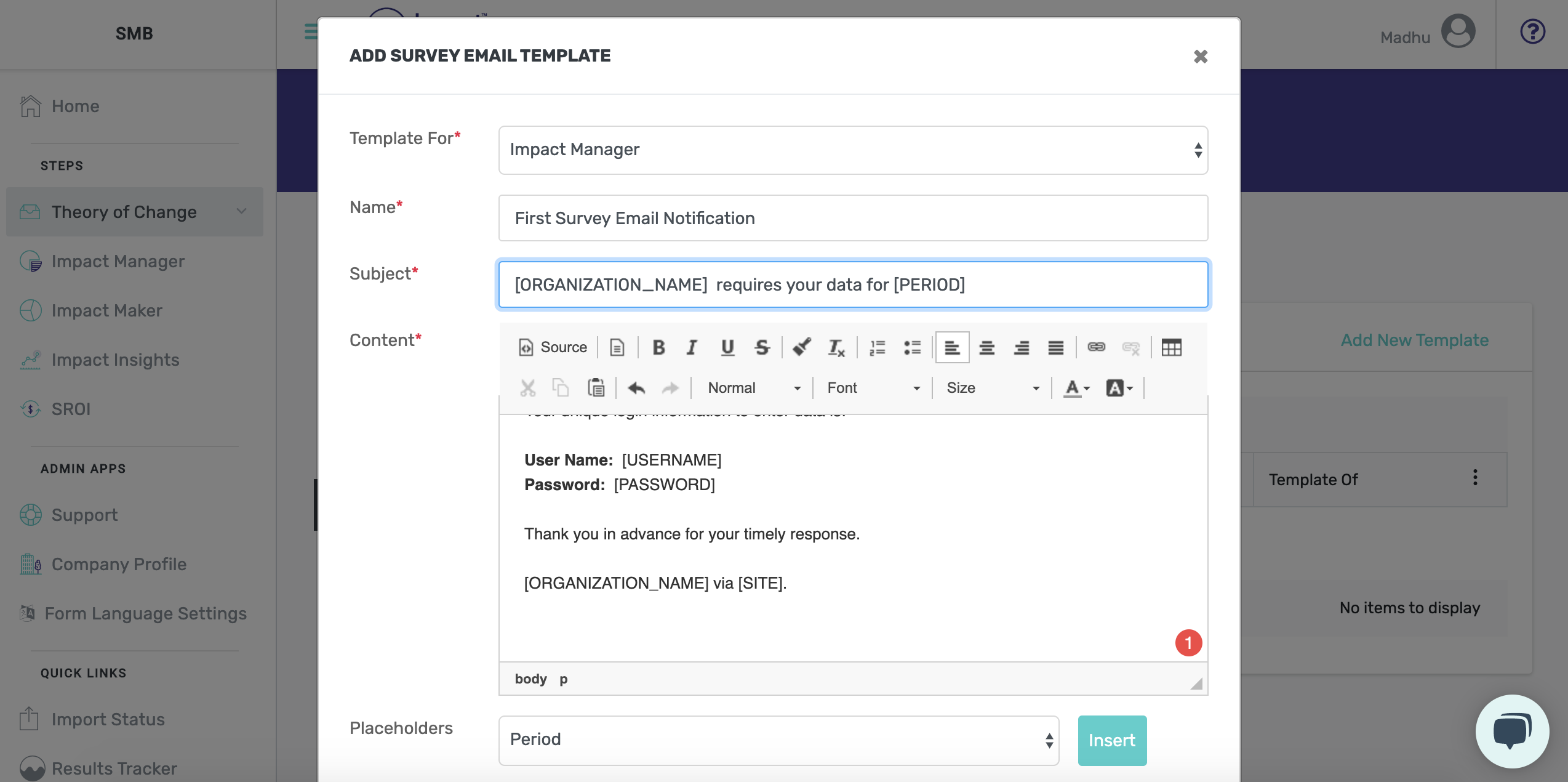 For example,
[ORGANIZATION_NAME] and [PERIOD] are placeholders in the subject. Our system will replace these with the organization name and the period for which you are sending the survey.
6. You can then set the body of the template, our system includes a default template that you may modify, but please take precaution to not delete the survey credentials (This is absolutely required to login to the survey to report data)
7. The various placeholder options that you can use in the subject and the body are the following
Partner Name - [NAME] - The name of the Investment/Project that will receive the survey
Organization Name - [ORGANIZATION_NAME] - The name of your organization
Site Support Email - [SITE_SUPPORT_EMAIL] - This is set to support@sopact.com
Survey Link - [SURVEY_LINK] - This is the actual survey link (We recommend using the survey hyperlink option, this lets you set the link behind a user-defined text - just as a link on a website)
Survey Hyperlink - You may double click on the link in the template to set user-define text of your choice (Screenshot below) - You may change the "Display Text" but DO NOT alter the URL.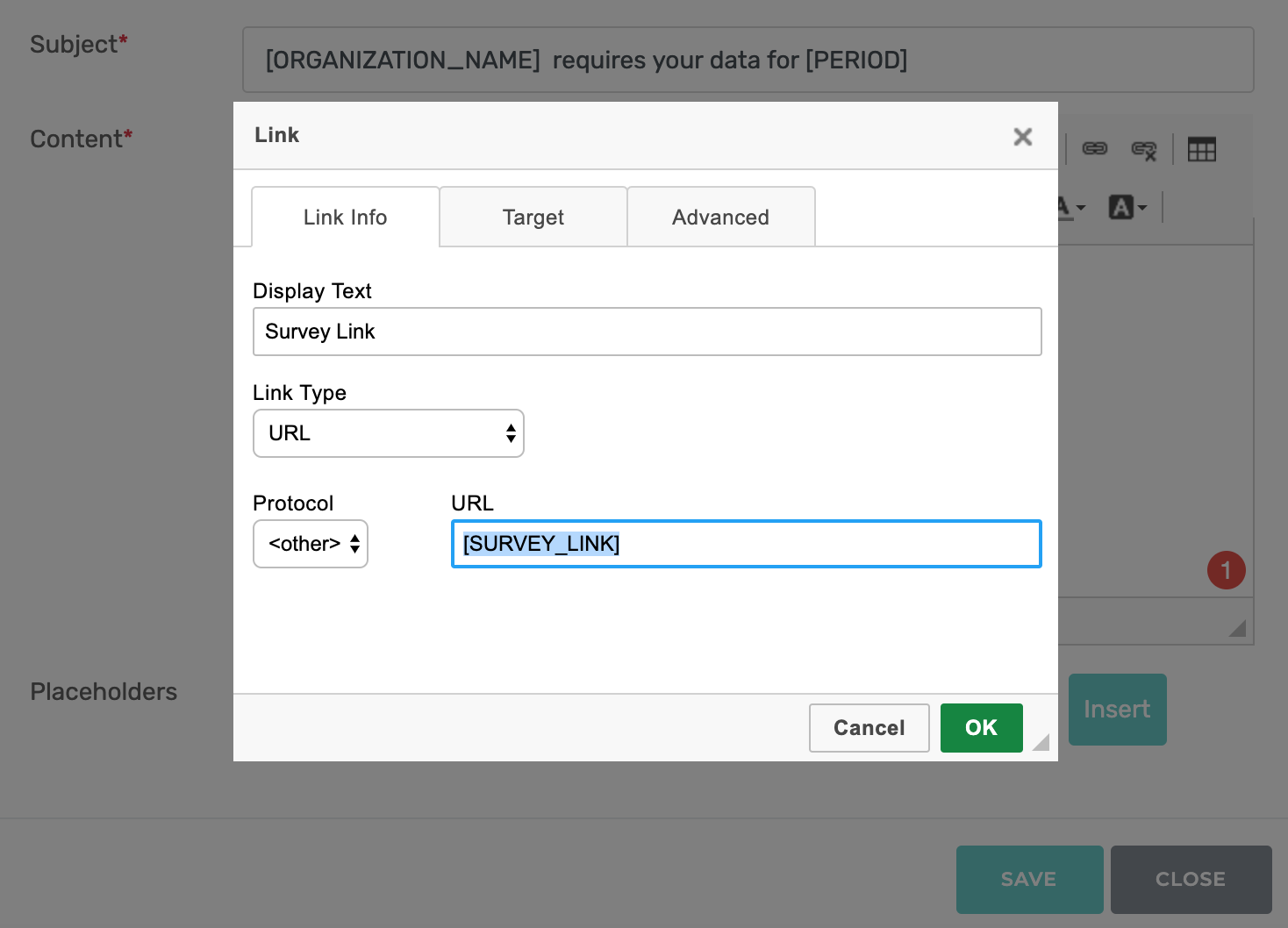 Username - [USERNAME] - Username that will be sued to login to the survey
Password - [PASSWORD] - Password to login to the survey
Site - [SITE] - This is set to Impact Cloud
Period - [PERIOD] - This is the period for which you are sending the survey and will be determined at the time of sending the survey
Reminder email template sent once every week
Steps to configure the reminder email that is sent automatically to the survey recipients to remind them to complete the data entry is the same as the "First survey email notification". You would need to choose "Reminder Mail For Data Submission" in the template selection drop-down (The placeholders remain the same as well)
Note: There is a default template that is used even if you do not configure this template
This is the default template,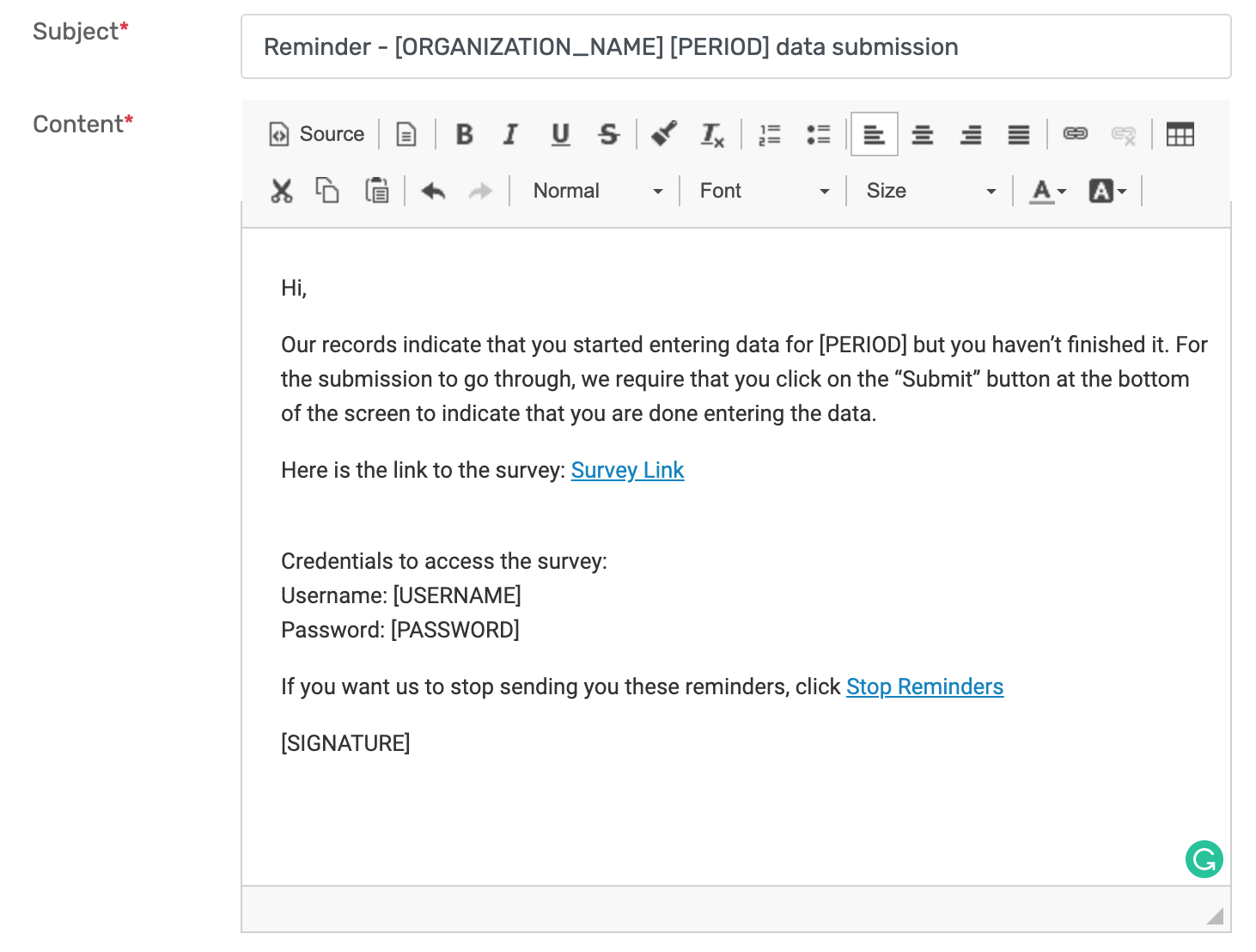 Reminder email template for the notification sent two days before link expiry
Steps to configure the reminder email that is sent automatically, two days before the survey link expiry, to the survey recipients to remind them to complete the data entry is the same as the "First survey email notification". You would need to choose "Requesting data before survey link expiry" in the template selection drop-down (The placeholders remain the same as well)
Note: There is a default template that is used even if you do not configure this template
This is the default template,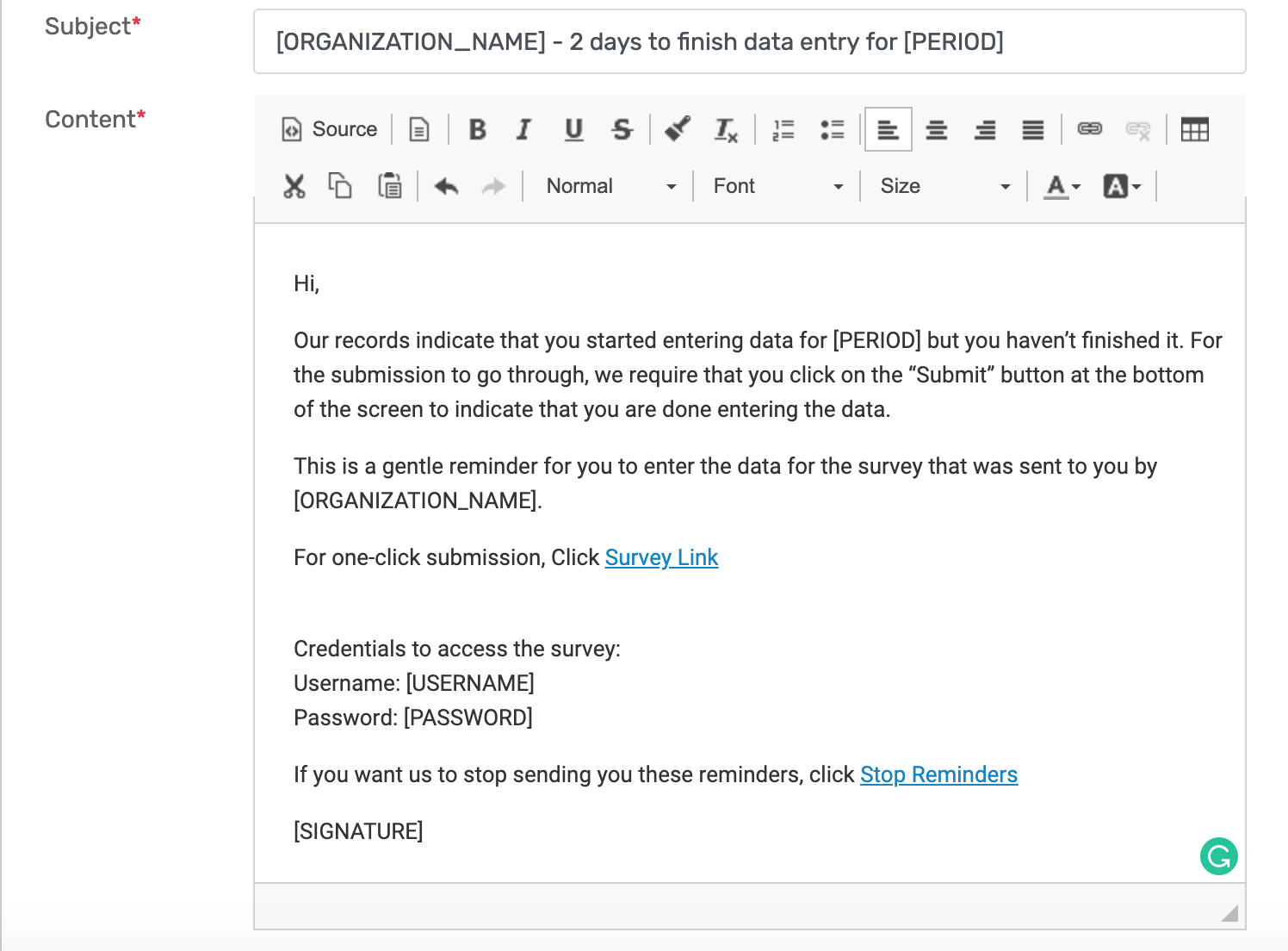 Get in touch with us for further help on this at support@sopact.com