Collect outcome data from multiple communities and aggregate the results to report country-wise impact to funders.
Appropriate for
An International NGO, or the funder (CSR, Foundation, Impact Funds)
Supporting multi-location, multi-country programs
Want to move programs from output to outcome-based on well-defined monitoring & impact framework
Want to assess the program in each country based on well-defined metrics and scoring approach
Each location M & E would like to follow common best practices, impact metrics, and even survey, but manage individual data governance process including unique data collection
Case Study:
Company: Food for Poor
Company Type: Leading INGO & Religious Organization (Latin America)
Impact Theme: SDG 1 and SDG 2
Geography: 18 Countries in Latin America and the Caribbean
Mission:
An NGO working from Florida, improving communities' health, shelter, food and emergency security, partnering with local organizations in the countries where they work. Projects are run at the community level and they integrate the different areas of activity with an integrated approach towards impact at the underserved communities.
By providing lifesaving food, secure housing, clean water, healthcare, emergency relief, micro-enterprise projects, and education opportunities, we are giving the poor a chance at a better future, and showing them God's love.
Challenge:
With programs in different countries in Latin America and the Caribbean, being run at communities level with local partners, there's a need for reporting report alignment to SDG in a standard way and aggregate at HQ level across the different countries. A set of metrics has been identified that track performance at the program level but challenges occur at data collection and data analysis level. Provided the multiple maturities of the programs and capacities, the need for a pilot was considered to ensure capacity building and a paced implementation.
Solution:
Sopact's scalable hub & spoke architecture, allowing multiple practices at the country level in a paced timeline for aggregation at HQ level. Leveraging on a standardized M&E infrastructure, Impact Knowledge Graph responds with surveys at stakeholder level and indicator metrics for portfolio aggregation. Impact Cloud® functions as an impact data file repository to store evidence documentation and background information for decision making.
BEFORE IMPLEMENTING IMPACT CLOUD®
As an organization with funders in the United States and beneficiaries in Latin America, Food for the Poor needed an innovative tool that is very easy to use for partners on the field collecting door to door data through offline tools like Kobo Toolbox and Survey CTO. Food for the Poor needed a unique place to store and manage the data from different communities and countries, where each country can enter their own data while Food for the Poor is able to aggregate the results by country or by impact theme.
In the past, Food for the Poor had to use Excel or Google sheets to manage the data after each data collection, but they soon realized that this is a complex process that doesn't scale well when you start bringing data year after year. Also, Food for the Poor has defined a complex scorecard framework to easily identify the improvement towards expected targets. This scorecard uses formulas and conditions that are very hard to maintain in a spreadsheet; with a new data point, the formulas have to be updated, the calculations can be modified by any user by accident, and the framework has to be configured all over again when the new data collection cycle comes. By the time this was all done for one community Food for the Poor realized that it would be impossible to scale this process across all the communities in the 18 countries where they work without technology.
How Impact Cloud® Helps
One single platform for all the countries to manage their data without sharing confidential information among them.
Food For Poor's manager permissions to view and aggregate the results from all the countries.
Ability to import data collected from the countries' preferred offline tools or pull data automatically from KoboToolbox.
Automatization of all the calculations in FftP's impact scorecard.
Automatic summarization of the door to door survey data into outcome metrics.
Dashboards to track improvement over time for the outcome metrics and impact scorecard.
Ability to analyze the survey data to find correlation and prove a hypothesis.
In the future: Social Return on Investment (SROI) per country
Designing Monitoring and Evaluation Framework. (50 mins)
Collecting results from different locations
Aggregating results in a consistent manner from a different location is time-consuming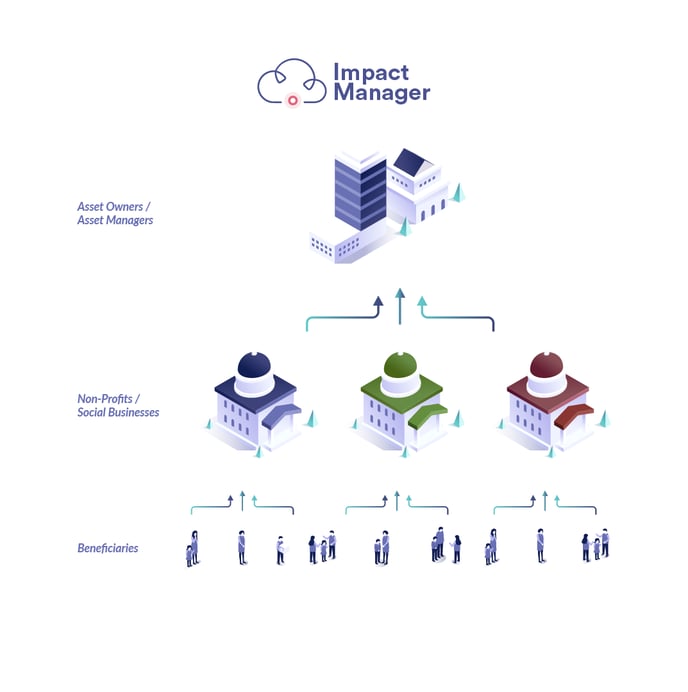 Designing Country Wide Scorecard
Food For Poor team already had envisioned dashboard, similar to one below. SoPact design team worked to refine this to real-time dashboards. Details of a real-time dashboard will be coming soon.